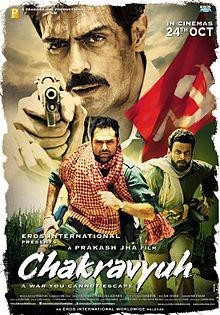 Prakash Jha's directorial venture "Chakravyuh", released on Wednesday, is a political thriller which laid focus on the Naxalite movement in India. "Chakravyuh" is a story of two best friends - SP Adil Khan (played by Arjun Rampal) and Kabir (Played by Abhay Deol).
The film, which opened to mixed reviews at the box office, had critics appreciating Arjun Rampal's performance as an IPS officer.
Here is what critics had to say about the movie:
Trisha Gupta of First post said: "Prakash Jha's filmmaking career, right from the village-level caste politics of Damul (Bonded Until Death, 1984) to the caste reservation-based drama Aarakshan (2011), has been driven by his interest in Indian politics. His most recent film is no different.
"With Chakravyuh, however, Jha moves away from his two long-term preoccupations - the politics of post-1970s Bihar and the changing role of caste in Indian socio-political life - to a different space, both in geographical and social terms.
"In other words, there are no surprises, even here. But then perhaps Jha's aim is neither nuance nor surprise. What he wants to do is to set up the broad contours of the debate: to show us why vast numbers of poor people in this country have felt it necessary to take up a violent path that leads to a stand-off with the state."
Subhash K. Jha from IANS wrote: This is Jha's most resolutely etched and firmly grounded drama since "Mrityudand", and a work way superior to his last two films - "Raajneeti" and "Aarakshan" - both of which suffered to some extent by being scattered in intent and pulled in too many directions.
"In a film about social injustice and the ire that it fosters, it would be unjust to give away the plot. Suffice to say that Jha copes with the complex themes of love, loyalty, friendship and betrayal in a language that never resorts to gutter-level sniping and combative belligerence just to appear trendily earthy.
"The crucial confrontation sequence towards the end is a make-or-break moment in the narrative. Thanks to the brilliantly-written words and the restrain with which the two actors put their viewpoints forward, the sequence scorches the screen."
Taran Adarsh of Bollywood Hungama wrote: "From DAMUL to AARAKSHAN, Jha has raised pertinent questions through his movies. CHAKRAVYUH focuses on the Naxalite movement, besides focusing on the plight of tribals caught between the Naxals on one hand and police/politicians on the other and most importantly, it raises the burning issue of progress/development versus dislodgment/displacement.
"The action sequences are larger than life. They seem real, but have the heart-in-the-mouth impact as well. The film has multiple music composers attempting to create melodies that suit the genre of this film. However, the soundtrack lacks the recall value once the movie concludes. Cinematography captures the beauty of the rustic terrain skillfully.
"This is, without doubt, Arjun Rampal's most accomplished act. Sure, the actor has impressed you in the past [ROCK ON!! in particular], but his act in CHAKRAVYUH is an eye-opener. Manoj Bajpayee may've portrayed diverse characters all along, but you can never accuse him of being repetitive. Om Puri is exceptional. His look, his expressions, his dialogue delivery... everything stands out here.
"On the whole, CHAKRAVYUH is an engaging drama. It chronicles a burning issue, but is entertaining concurrently, something that Prakash Jha balances beautifully in film after film. Watch it!"
Rachit Gupta of Filmfare wrote: "Prakash Jha deserves applause just for the fact that he's made a commercial film about the Naxalite movement in India. Such subjects are best reserved for news articles and documentries. But Chakravyuh successfully uses this socially relevant subject and weaves it with a run of the mill story. That predictability is the only and the major problem with this gritty film.
"This could've been another GangaaJal or Raajneeti but sadly it doesn't live up to the benchmark of Jha's best. While gripping and impressive in parts, Chakravyuh constantly drops the ball in its storytelling.
"But fact is, Chakravyuh also talks about all the right things and does justice to its subject. That should be the sole reason you should watch this film."