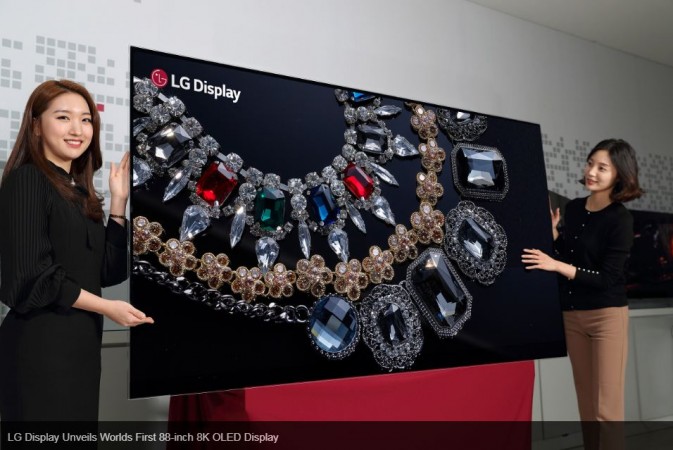 South Korean technology major LG known for its prowess in LED display development has come up with a new giant super high-resolution TV with state-of-the-art technology that is for sure going to take the television viewing experience to a whole new level.
LG's new 88-inch OLED (Organic Light Emitting Diode) 8K resolution television is the world's first and largest of its category. It boasts the highest resolution with 33 million pixels (7680×4320p) – 16 times more than full HD (1920×1080p) and four times more than Ultra HD aka 4K (3840×2160p).
"The successful development of the world's first 8K OLED display is a milestone for the 8K era and underscores the exciting potential of OLED," In-Byung Kang, Executive Vice President and Chief Technology Officer at LG Display, said in a statement.
"OLED is clearly a next-generation technology leader and for this reason, LG Display is accelerating its research and development into OLED so that we can provide differentiated products to customers and markets," Kang added.
The image quality of the jewellery displayed on the demo LG OLED TV model is the crispiest and clearest it can get on a big screen. It sets a new standard in the 8K LED category and many wonder, how much more the companies be able to push the envelope in the home entertainment gadgets.
However, the 8K OLED TV will not be hitting stores anytime soon, as the company is expected wait it out for 8K resolution content to enter the mainstream market. Only recently, 4K/Ultra HD and HDR videos began to stream on Netflix and Amazon Prime Video, among other online service providers.
Furthermore, the price of LG 8K OLED TV, though not officially announced, will sure not come cheap. For instance, 88-inch 4K LED TV will set you back by $20,000 and you can imagine how much expensive the new LG 8K TV will be.
Having said that, there is no harm in seeing and experience the TV from a distance and as it happens, a lucky few will be able to get a glimpse of the LG 8K OLED TV at the LG Display booth in the upcoming Consumer Electronics Show (CES) 2018 (January 9-12), Las Vegas.
Stay tuned. Follow us @IBTimesIN_Tech on Twitter for the latest news on CES 2018 and technology.