Laptops sure have come a long way, both in terms of specs and as well as design. One look at the Osborne 1 (one of the first portable computers) and you will get an idea of what we are talking about. And as laptops become slimmer and more portable by the day, how thin could the world's thinnest laptop possibly be? This question intrigues us just as much as it does you.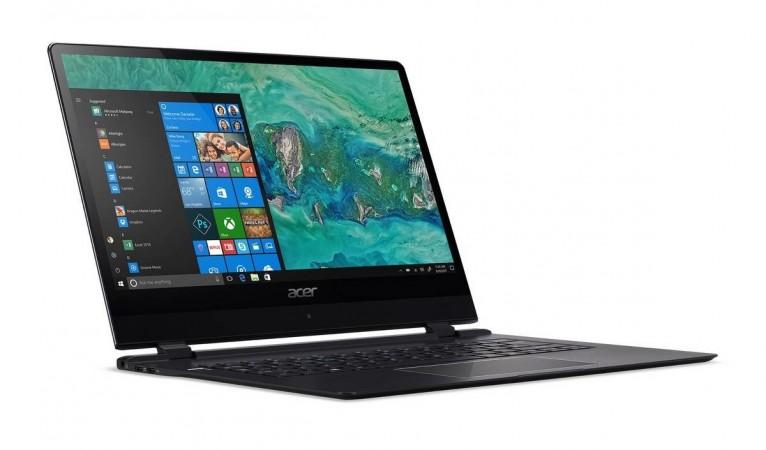 Meet the second generation Acer Swift 7 aka the "world's thinnest laptop", the Taiwanese tech giant's biggest reveal at CES 2018. The Swift 7 is an always-connected PC running Windows 10 and is as thin as 8.98 mm. Acer claims that the Swift 7 is designed in a way to make it easier for users to carry the device anywhere they travel at any time.
Besides its sheer thinness, the rest of the Acer Swift 7 specs are pretty impressive too. The ultra-thin laptop sports a seventh-generation Intel Core-i7 processor, though it would have been nice if Acer equipped it with the latest eight-gen Core-i7 processor. That aside, it packs 8 GB RAM and 256GB worth of PCIe SSD hard drive storage under its hood.
Acer has also upgraded the screen from a 13.3-inch display to a 14-inch IPS5 panel on the new Swift 7. However, the resolution is the same 1080p. The Swift 7 also features Acer Color Intelligence, and a Corning Gorilla Glass NBT touchscreen and touchpad. The biggest change the new Sift 7 brings on board is the inclusion of 4G LTE connectivity (Intel XMMM), which is still rare in laptops.
The "world's thinnest" laptop comes with a Nano SIM card slot and features eSIM technology which allows users to download and activate eSIM profiles.
But LTE and cellular support aside, the Acer Swift 7 commands a very heavy asking price of $1,699, which translates to roughly Rs 1,07,640 and that's just for the base model. The Dell XPS 13 and the Lenovo Yoga 920 sport eight-generation Core i7 chips, and up to 16GB RAM storage cost around the same, but that's just a small trade-off for owning the thinnest laptop in the world.
The laptop will be available in North America starting March, followed by EMEA region (Europe, the Middle East and Africa) from April at a starting price of 1,699 Euros, which comes around Rs 1,29,356.
Meanwhile, Acer also announced updated models of the Nitro 5 and the convertible Spin 3 (laptop-cum-tablet) along with fan-less Acer Switch 7 laptop and the ridiculously over-the-top 18-core Acer Predator Orion 9000 gaming PC (Intel Core i9).
Acer Nitro 5
The upgraded version of the Acer's popular gaming laptop, the Nitro 5, now gets an AMD Radeon RX560 gaming-ready graphics card up to 4GB and AMD's latest Ryzen mobile processors.

The new 15.6-inch 1080p display-sporting Nitro 5 laptops are configurable with up to 32GB of DDR4 RAM and 512GB of storage.
The Nitro 5 may not be the best or the fastest gaming laptop in the market, but at a starting price of $799 (approx. Rs 50,600) it does make a lot of sense for someone looking to buy a gaming laptop with the latest Intel processor and a good graphics card.
Acer Spin 3
Acer has also updated the Spin 3 which is getting eight-generation Intel Core processors (unlike the Sift 7). It has reduced the display size from a 15.6-inch panel to a 14-inch 1080p display for a smaller overall form factor. However, staying true to its "Spin" moniker, it still rotates around to convert into a tablet. Acer hasn't released a full spec sheet yet, but price will start at $599 (approx. Rs 37,950) when it launches in February.
Acer Switch 7 Black Edition and Acer Predator Orion 9000
Lastly, Acer also announced the release date (for the US) for two of its computers that it showcased last year at IFA 2017 – the Acer Switch 7 Black Edition fan-less 2-in-1 laptop, which will be made available in late January at $1,699 (approx. Rs 1,07,600) and the Acer Predator Orion 9000 gaming powerhouse (the one that looks like it's going to transform into an Autobot or something), which will be available from February for $1,999 (approx. Rs 1,25,600).