TCL, which holds the official rights to build BlackBerry phones, will unveil a new line of handsets at the upcoming Consumer Electronics Show (CES) 2017, which is scheduled to be held during January 5-8 at Las Vegas.
"We'll unveil more news at CES around our plans, showcasing the legacy of the BlackBerry smartphone brand, while also giving a glimpse into what new BlackBerry smartphones will offer as part of our bold new brand portfolio within TCT," Steve Cistulli, president and general manager for TCL Communication (TCT), was quoted as saying by GSM Arena.
Also read: LEAKED: Nokia 5.2-inch Android phone images surface ahead of launch
There is no official word on the name of the BlackBerry phone, but according to rumours, it will be called the DTEK70, similar to the last two phone series — DTEK50 and DTEK60.
The upcoming phone, internally known as Mercury, is said to be unique as compared to its predecessor, as it is expected to come with built-in QWERTY keypad. Another interesting thing about the new BlackBerry phone is that the fingerprint sensor will be integrated right into the spacebar of the keypad.
As far as internal hardware is concerned, it is expected to house Qualcomm's latest Snapdragon 821 quad-core processor. Other details such as RAM, camera and battery capacity are yet to be revealed.
As per the leaked images (courtesy Giz China), DTEK70 is expected to have a 4.5-inch curved screen, and a front camera on the top right corner, three-grille speakers in the centre and sensors to the left.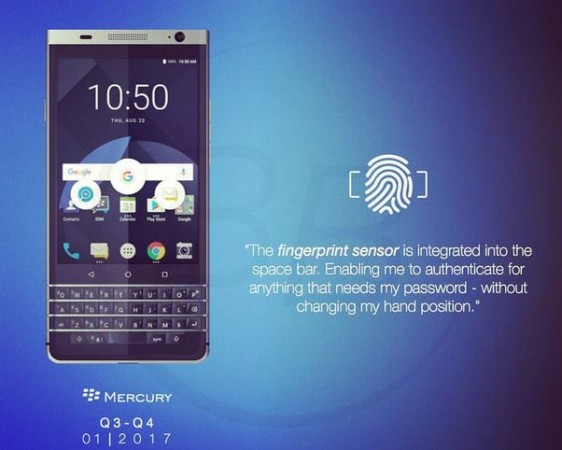 With more than a week left for the CES 2017 event, more details about BlackBerry DTEK70 are expected to surface online soon.
Watch this space for latest news on BlackBerry and CES 2017.