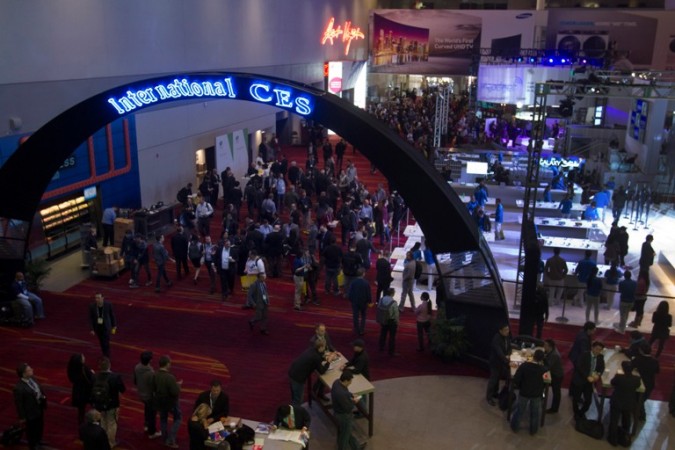 It is that time of the year when major tech companies show us a glimpse of the future. The annual Consumer Electronics Show is the best place to watch all great tech things at one place. This year's CES 2015 is a hit with participations from top-most technology giants.
On day one, Intel clearly stole the show with a series of new launches that define the futuristic tech in best words. Intel widely categorised its latest launches into three -- Computing Unleashed, Intelligence Everywhere, and the Wearable Revolution -- Mashable reported. Under each category, Intel's CEO Brian Krzanich unveiled new products ranging from a button-sized SoC to its all-new computer vision system.
Intelligence Everywhere
This was an extremely important category for Intel on day one of CES 2015. The chip-maker demonstrated its latest computer vision system, RealSense, which is capable of several photographic tricks. Debuting in Dell's latest Venue 8 Android tablet, RealSense brings new features like changing focus in and after a photo has been taken, 3D mapping and gesture awareness.
These unique capabilities have extensive use in the world of tech. Intel demonstrated its RealSense cameras by navigating through a complex recipe with touching the device. Additionally, the chip maker showed a fleet of RealSense-enabled Firefly drones that could identify objects using motion capture information and navigate without crashing.
Intel also extended the use of RealSense in helping visually impaired by using a vest equipped with sensors that changed colors and vibrated when someone approached. This can help the visually challenged individuals to understand better "when something around him needs his attention, so he can stay fully engaged in the moment, such as a conversation," GeekWire reported in its live blog.
Computing Unleashed
In this category, Intel demonstrated wireless charging capabilities, which will be integrated into hotels through partnership with Marriott. Krzanich described computing unleashed as the arrival of 3D computing and the ability of computers to see and understand.
Wearable Revolution
2015 is going to be a great year for wearables with major companies participating to build various tech products in this category. Intel unveiled Curie, its smallest to-date system-on-a-chip that can help tech companies take wearables to a whole new level. Curie is as small as the size of a shirt button and can be easily integrated into products like rings, bags, bracelets and jackets.
Curie includes Bluetooth, low-power sensor hub, pattern matching accelerator, accelerometer and gyroscope. Intel already has a partner, Oakley that is planning to integrate Curie into pro athletes and consumer grade products. Curie is expected to be released later this year.