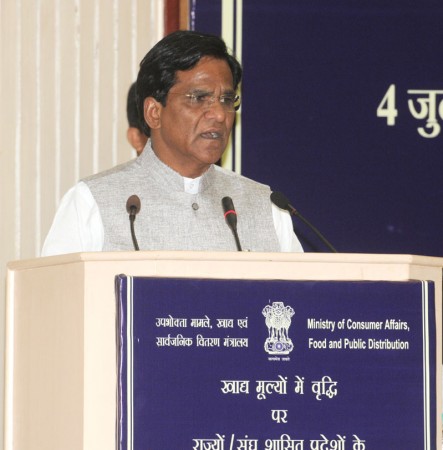 To check black marketing of essential commodities in the country, the Union government has proposed amendment to the Essential Commodities Act, stated Union Minister of State for Consumer Affairs, Food and Public Distribution, Raosaheb Patil Danve in Rajya Sabha on Friday.
The government proposes to take stringent action against hoarders of essential food grains and other food commodities. Before the introduction of the bill in the Parliament to make the required changes, the Centre has decided to obtain views of state governments, Danve said.
Regarding provisions to check hoarding, the minister said that the powers have already been delegated to the state governments to implement the Essential Commodities Act, 1955, and the Preventions of Black marketing and Maintenance of Supplies of Essential Commodities Act, 1980.
The central government has been regularly advising state governments to implement these Acts effectively. According to Danve, here are the steps the Union government has taken to check prices of food items:
• Minimum Export Price (MEP) fixed for potatoes at $450 per M.T. w.e.f. 26 June, 2014 and of onions at $500 per M.T. w.e.f. 2 nd July, 2014 respectively.
• States have been advised to allow free movement of fruits and vegetables by delisting them from the APMC Act.
• Government has approved the release of additional five million tonne of rice to BPL & APL families in states pending implementation of National Food Security Act (NFSA).
• Advisory to State governments issued to take action against hoarding and black marketing and effectively enforce the Essential Commodities Act, 1955 & the Prevention of Black-marketing and Maintenance of Supplies of Essential Commodities Act, 1980.
• Imposed stock limits in respect of onion and potato for a period of one year with effect from 3rd July, 2014 under the Essential Commodities Act.
• Based on interaction with the State Governments/UTs on 4th July, 2014, a decision has been taken to amend the Essential Commodities Act to make hoarding and black marketing a non bailable offence and increase the period of detention to one year from existing six months.
During the current year, the government has allocated 66.45 lakh tonn of additional foodgrains to the states for BPL and APL families, and another 7.11 lakh tons of foodgrains for festivals, calamity relief etc.
The government has not reduced allocation of foodgrains and sugar to the states, which have not implemented National Food Security Act (NFSA). The states are being provided allocation of foodgrains based on March 2000 population estimates of Registrar General of India (RGI), the minister had stated in Lok Sabha on 15 July.