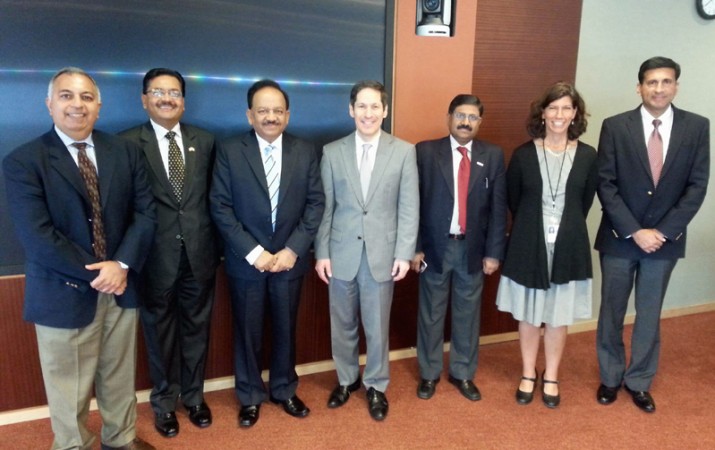 The Union government has promised to develop All India Institute of Medical Sciences (AIIMS) in Bhubaneswar into a most modern hospital in India.
"I want to see AIIMS Bhubaneswar develop into the most modern hospital in India, bigger and better than AIIMS Delhi," Harsh Vardhan, Union Health Minister, stated in the Odisha capital on Saturday.
The minister went on to make 10 significant announcements, which underscore the Centre's commitment to AIIMS, Bhubaneswar. They are:
*An integrated treatment facility for patients combining AYUSH and allopathic medication and techniques.
*A 100-bed super-speciality Mental Health and Neurosciences Centre.
*A 100-bed super-speciality Nephrology Centre with dialysis and kidney transplant facilities.
*A cancer super-speciality centre, with 100 beds.
*Cardiology and Cardiac Surgery, another 100-bed super-speciality facility.
*A brand new Department of Occupational and Environmental Health.
*A Department of Geriatric Medicine.
*AIIMS Bhubaneswar's 'satellite' in Balasore to be a 300-bed multi-specialty hospital. It is coming up on a 25-acre plot provided by the state government.
* Balasore unit to have a School of International Public Health on its campus, in collaboration with a reputed overseas institution.
*All BSc (Nursing) students at AIIMS Bhubaneswar to henceforth receive a monthly stipend of Rs 500.
The Health Minister spent over an hour, inspecting the out and in patient departments of AIIMS. He made it a point to look into minute details. Vardhan's attention also moved to the registration slips, which are routinely handed out to new patients; he noted that the health advice printed on them were not of much value.
So he recommended that every 15 days a new message should be printed. This way, he suggested to Dr AK Mahapatra, the Director of AIIMS Bhubaneswar, and the senior officials by his side that there could be greater awareness generation of the simple truisms of healthy living.
The Bhubaneswar AIIMS, much like the five others set up recently, is suffering a serious shortage of staff. Vardhan announced the clearing of decks for a recruitment drive beginning 1 August.
"We have only 65 filled faculty positions in each AIIMS at the present time, a shortfall of 250. So I have decided to hire on contractual basis for the first two years because we need to get the facilities functional fast," the minister said.
About the recruitment of faculty and non-faculty positions, the minister said he has decided to give the Director of each of the AIIMS the authority to chair selection committee meetings. The system of getting officials from other institutions to chair the interview sessions has effectively been discontinued.
In the afternoon, the Health Minister spent some time with the students and inspected their living quarters. He noted that large neon signs were necessary on the exterior of the hospital.
Odisha promised regional geriatric centre:
Vardhan called on the Chief Minister of Odisha, Naveen Patnaik, at the state secretariat and assured him that the project to build a regional geriatric centre on the campus of SCB Medical College at Cuttack is pending before the union cabinet.
He was responding to Patnaik's specific suggestions for more health ministry projects in the state.
These included a proposal for a Regional Institute of Paramedical Science (RIPS: for which the state government has given 10 acres), a branch of the National Institute of Mental Health and Neuro Sciences in Bhubaneswar, an outlay of Rs 530 crore for expanding the MBBS intake by 100 seats in each of the three government medical colleges and establishing more Graduate Nursing Midwife and Auxiliary Nurse Midwife schools.