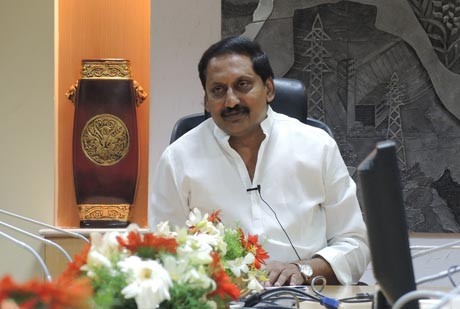 Appointment of a new chief minster to Andhra Pradesh is likely to be delayed as the 16th Lok Sabha elections are nearing. The current 15th Lok Sabha will complete its term on 31 May 2014.
N Kiran Kumar Reddy, who recently resigned as the CM, has been asked to continue as the state's caretaker Chief Minister, till a new CM is appointed. Reddy resigned as CM and quit the Congress party last week, protesting the Parliament's approval of the bill to bifurcate the state to form Telangana.
The bill is now waiting President's nod and the Centre is expected to issue a gazette notification for formation of Telangana state and the successor state of Andhra Pradesh within a couple of days.
Though the political situation in the state seems to be fluid, significant developments are taking place. The Congress high command in Delhi has summoned Andhra Pradesh Congress Committee president Botsa Satyanarayana and Union Tourism Minister K Chiranjeevi on the morning of 24 February. The Centre is expected to discuss with them the appointment of a new AP CM, besides the formation of Telangana.
India's Election Commission has stated that if the Centre bifurcates the state within a month's time, elections for the Seemandhra and Telangana assemblies would take place simultaneously with the Lok Sabha polls. If the Centre delays the division, elections to the two new state assemblies will be delayed. The Indian government is yet announce the date for bifurcation of the united Andhra Pradesh state.
Anticipating election to Seemandhra assembly, Reddy is said to be planning to launch a new party and also met expelled MPs Lagadapati Rajagopal, Sabbam Hari, V. Arun Kumar, Sai Pratap, Harsha Kumar and R. Sambasiva Rao on Sunday, reported Deccan Chronicle. The MPs were expelled from the Congress for moving a no-confidence motion in the Lok Sabha against the UPA government.
The State ministers- S. Sailajanath, P. Satyanarayana and Parthasarthi were also said to be in consultation with Reddy, who is said to be wooing like-minded MLAs.
Meanwhile, the Telangana Rashtra Samiti (TRS) president K Chandrasekhara Rao, who has been in the forefront in the fight for Telangana state, met Congress president and UPA chairperson Sonia Gandhi on Sunday. Sonia Gandhi has asked KCR to be in touch with the party high command and he is currently stationed in Delhi. KCR had stated that once state is formed, TRS will be merged with Congress.