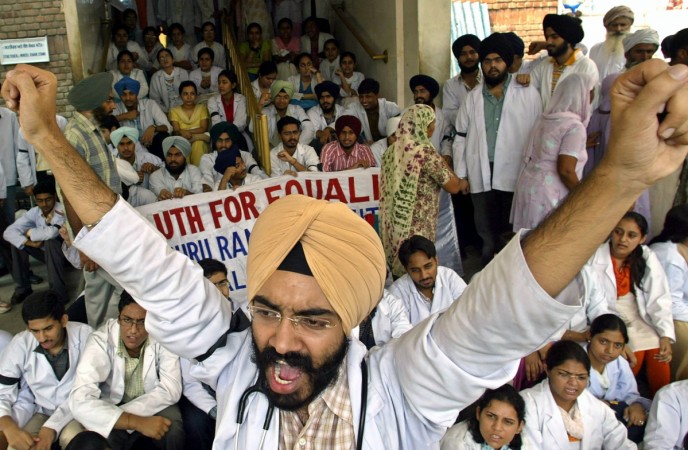 Amid a growing opposition to the common entrance test, also called National Eligibility-cum-Entrance (NEET) test, the central government has decided to hold consultations with the health ministries of various states on Monday to discuss the issue.
After Supreme Court on April 28 directed the Centre and the Central Board of School Education to conduct a single common entrance test for admission to MBBS and BDS courses through NEET, several states filed an appeal to allow them to hold separate exams.
However, the Supreme Court has rejected the pleas of various states and said that the admissions to various courses across the medical colleges of the country would be held through NEET 2016-17.
Union Health Minister JP Nadda said in a tweet on Sunday that he was looking forward to meeting with the state health ministers tomorrow morning on the issue of NEET.
"I am hopeful that together we shall be able to find some solution to address concerns of lakhs of aspiring medical students & their parents," Nadda tweeted.
In J&K, the NEET exams row has snowballed into a political debate, with opposition party National Conference targeting the Peoples Democratic Party-Bharatiya Janata Party coalition by saying that holding NEET exams will be an "infringement into the state's special status and autonomy," according to the Indian Express.
"Don't know about other states but J&K reserves 50 percent seats in medical collages for girls. Will NEET protect this opportunity our girls get?," Former chief minister Omar Abdullah said in a tweet.
The Supreme Court had earlier said the apprehensions of the private medical colleges, minority colleges and some states that the conduct of a common entrance test (NEET) will deny them their separate legislative rights, do not hold ground.
The Supreme Court has said that CBSE would act as a single authority, which will hold the medical entrance exams throughout the country.
It also said that those students who missed NEET-I exams on May 1, 2016, are eligible to appear in NEET-II exams to be held on July 24.
Nearly 6.5 lakh students took the NEET-I exams on May 1.