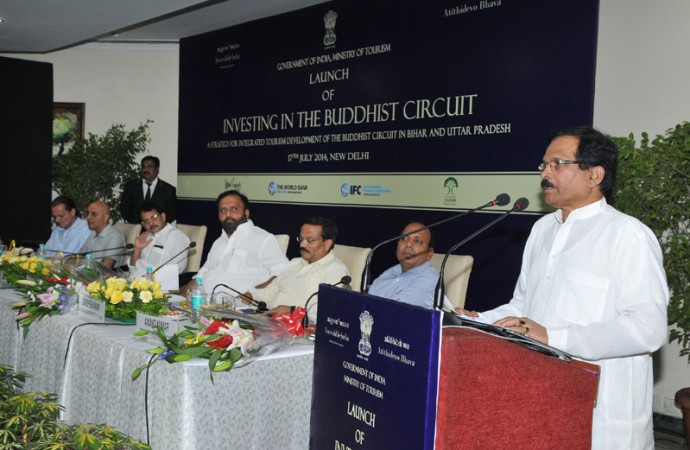 The Union government has identified 11 mega circuits for tourism development in both Andhra Pradesh and Telangana under its Central Financial Assistance (CFA) scheme during the 2014-15 financial year. The government has also notified five state festivals in both states to grant CFA.
This was disclosed by the Union Minister of State for Culture and Tourism Shripad Yesso Naik in Lok Sabha on Tuesday.
Though the development and promotion of various tourism destinations and products is the primary responsibility of state governments and Union Territory (UT) administrations, the Centre provides them CFA in each financial year, he added. The government provides CFA to states and UTs subject to availability of funds and adherence to scheme guidelines.
Particularly referring to the erstwhile Andhra Pradesh, Naik said that the Union government prioritised the 11 tourism circuits of the two states for CFA at a meeting held on 10 January. Officers of the Union Ministry of Tourism and officials from the then-united AP government attended the meeting, the minister added.
Here is the list of projects prioritized for both Andhra Pradesh and Telangana for the 2014-15 fiscal:
Mega Circuits:
a) Warangal - Karimnagar Mega Circuit
b) Kondapalli - Ibrahimpatnam and surrounding areas Mega Circuit.
Tourism circuits:
a) Rachakonda Fort - Arutla (Temple) - Rangapur Observatory - Galishahid Darga - Allapuram Village (Temples) - Narayanpur (Temples) - Sivanna Gudem Rock Formations - Valley of Banzaras Circuit.
b) Guttikonda Bilam Cave-Pidugurali-Kondaveedu Fort- Kotappa Konda Temple Circuit, Guntur District
c) Buddhist Circuit Srikakulam
Destinations:
a) Development of Nagarjunasagar
b) Development of Durgam Cheruvu Lake Hyderabad.
c) Development of Heritage Theme Park in Hyderabad
d) Sound & Light Show and area development in Srikalahasti
e) Development of Khammam Fort and surrounding areas in Khammam District.
f) Development of tourist places in Karimnagar District.
g) Development of Perupalem Beach in West Godavari
h) Development of Tourist Facilitaties in Temples of Panagal and Udayasamudram in Panagal, Nalagonda
State Festivals in Andhra Pradesh and Telangana:
a) Kakatiya Festival
b) Flamingo Festival
c) Taramati Baradari Festival
d) Kakinada Beach Festival
e) Lepakshi Festival
Stating that the Centre has not sanctioned a helipad at Kodaikanal in Tamil Nadu, Naik said that the Union Ministry of Tourism had sanctioned CFA of Rs 427.03 lakh, out of which Rs.341.62 lakh was released for the project 'Development of Kodaikanal-Phase II' under the 'Product/Infrastructure Development for Destinations and Circuits' Scheme.
During the last three years - 2011, 2012 and 2013 - India's foreign exchange earnings (FEEs) through tourism were Rs.77,591 crore, Rs.94,487 crore and Rs.1,07,671 crore, respectively, Naik said.
The foreign exchange earned through tourism in India goes into the foreign exchange reserves of the country, Naik added.