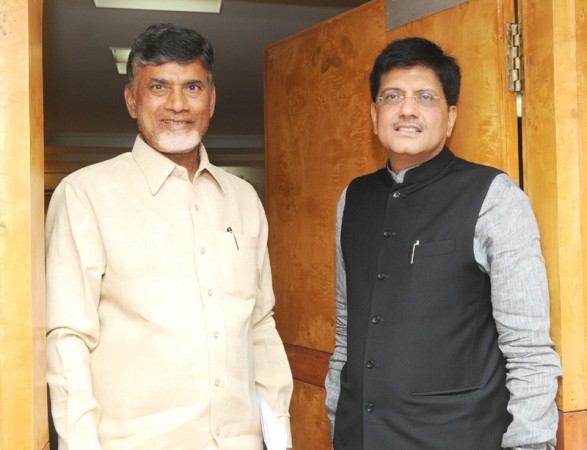 Power-starved Andhra Pradesh will get quality power at affordable tariff in a year's time, the Union government has assured state Chief Minister Nara Chandrababu Naidu on Thursday.
Naidu is on a two-day visit to New Delhi to press the Centre for various developmental projects for the state. The Centre will also help AP government to initiate state-wide power reforms, Union power minister Piyush Goyal told the media after Naidu met him.
Union government-owned National Thermal Power Corporation (NTPC) has given its green signal to AP to utilize its railway infrastructure to transport coal for its thermal power projects and generate 500 MW of additional electricity in the next 2-3 months.
"We are working on a plan where Andhra Pradesh can get good quality and affordable power within the next 12 months," PTI quoted Goyal.
Using NTPC's railway facilities by states will become a national policy, the minister said. The policy would enable usage of government and public infrastructure for public interest, Goyal added.
To ensure 24x7 power supply to every household, industry and commercial establishment in AP, both the Union power ministry and the state government have agreed to work together. The pact will simultaneously help the state's farmers to get quality power whenever required, the minister said.
To develop Andhra Pradesh as a model state in providing good transmission, distribution and metering network in the country, the Union and state governments will jointly formulate an integrated plan to be implemented over the next 2 years, Goyal stressed.
As part of the integrated plan, the Union power ministry has initiated discussions for expanding the generating capacity, strengthening transmission network and distribution and metering of every household, the minister pointed out.
Goyal also shared Naidu's commitment to address power issues of both Andhra Pradesh and Telangana. Goyal said that the Centre will solve the power problems of the two states.
"I dont think there is any dispute between the people of Andhra Pradesh and Telangana and even during today's meeting Naidu has said that he does not distinguish between the people of both regions and wants his state to progress along with Telangana," Goyal said.
Last May, Andhra Pradesh had an installed power capacity at 17,731.07 MW, with a peak power deficit of 8.1 per cent, the minister revealed.
Both AP and Telangana are battling power crisis since a long time, and the crisis have aggravated due to Telangana's formation. According to latest media reports, both states were facing power cuts, ranging from seven hours in rural areas to three to four hours in cities and towns of both states.