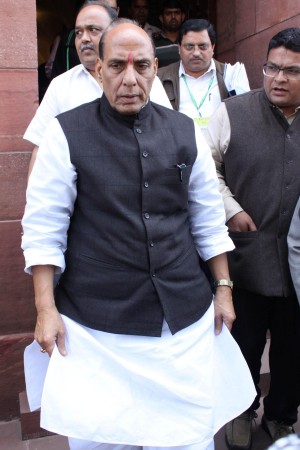 Union Home Minister Rajnath Singh told the reporters that the Centre has ordered the Jammu & Kashmir government to challenge all the evidences based on which bail was granted to the controversial separatist leader Masarat Alam Bhat.
The Centre has also asked the state government to monitor the movements of Alam and his aides.
"All 27 cases against Alam should be rigorously pursued and the government should take steps to challenge bail to him in those cases," Home Minister Rajnath Singh was quoted as saying.
According to India Today, when Rajnath Singh was questioned about Alam's release by Congress MP Jyotiraditya Scindia, the Home Minister said that there were no changes on the basis of which the separatist leader could be put behind the bars again.
Alam, who has been charged with 27 cases, was granted bail for all. However, he was kept in jail as per the Public Safety Act.
"Whatever is happening after the formation of the government in Jammu and Kashmir is being done without keeping the Government of India or the Centre in the loop," Modi was quoted as saying.
Meanwhile, J&K Chief Minister Mufti Mohammad Sayeed assured the Modi government that it will not release any prisoners in the future without BJP's consent.