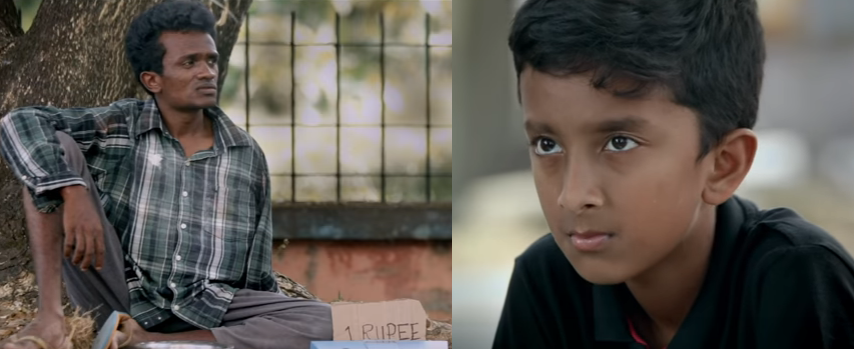 Advaith Jayasurya, 10-year-old son of Malayalam actor Jayasurya, became an overnight sensation after youth icon Dulquer Salmaan launched his maiden short film on Sunday, March 12. His short film titled, Good Day, is stealing all the spotlight as appreciations are pouring in from all quarters.
Watch: Advaiith Jayasurya edited promo song of Su Su Sudhi Vathmeekam
Dulquer launched the five-minute-26-second video at Jayasurya's residence in Kochi on Sunday. Late he posted on social media:
This morning Jayettan invited me to his for something special. His beautiful family gave me the warmest welcome. What awaited me was the nicest surprise. So here goes !! It gives me the utmost joy to present you the most adorable short I've seen in a long time!!!! Made by Advaith Jayasurya who we all know as the super cute Aadi, son of our very own Jayettan. Made me emotional watching it cause he's just all of ten years old. I made my first short films in high school. Most of which were so amateur. But this is so well thought out and has a such a sweet message to it. Extremely proud of you Aadi ! You're also such an awesome actor. Your expressions are too cute. Everyone please watch and share Aadis short film - "Good Day.. " (sic)
Many Mollywood celebs including Midhun Manuel Thomas, Manju Warrier, Suraj Venjarumoodu, Joju George, Indrajith Sukumaran, Aju Varghese, Nadhirshah, Roopesh Peethambaran, Ganesh Raj, Saiju Kurup, Vijay Babu, Sandra Thomas, Meera Nandan, Anoop Menon and Aby Tom Cyriac lauded the young talent for his work.
However, few netizens think Advaith's movie bore resemblance to award winning short film, 72kg. The short movie, which bagged second prize at Dubai International Film Festival (shot on Samsung Galaxy Note 5) is the directorial venture of Thamar KV. The fillmmaker also echoed similar sentiments, but lauded Advaith's effort. Advaith acted, directed and edited the movie.
Check out what celebrities have to say about Advaith's short film:
Suraj Venjaramoodu
Beautiful!
Brought tears to my eyes too!
May God bless u , Advaith :* !
Like your dad, hope u too will bring lots of positivity into this world!
Saritha Jayasurya & Jayasurya Jayasurya Jayan Be Proud <3
Indrajith Sukumaran
Best wishes Aadhi..
Aju Varghese
A 10 year old boy directs a short film an the theme is touching, congrats Adi Jayasurya.
Hats off !!! Expecting more in future from you dear :) Love
Roopesh Peethambaran
I was amazed by watching this short film 'Good Day' made by a 10 year old, Advaith Jayasurya!! Mone Aadi, Ni eppol engane aanegil veluthavumbol enthaavum?? ????
You are a good actor and I'm sure you will be a fantastic film maker one day!! I'm very proud of you!! Jayasurya - Ivan mass aanuttoo!! ????
Midhun Manuel Thomas
Jayasurya's son ten year old Advaith 's short film..!! Whenever I visit Jayettan's house, this little dude is seen infront of his computer, editing and reediting any and every visuals passionately , and opining on films he has watched and making mature observations on film related topics..!! ☺️☺️ I always knew he is gonna be a wonderful film maker one day and this is his first step to it..!! And in such an young age, he has executed his thought wonderfully..!! Congrats little brother Jayetta, watch out..!! One day u will have to request him to make a movie starring you in the lead ..!! Good job and way to go..!!
Joju George
Adhi rockzzz.... Son of jayasurya ..10 years...poliyallee Jayasurya Jayan
Saiju Govinda Kurup
A short film directed by a 10 year old...Advaith...
Rahul Subrahmanian
Future is waiting dear Advaith Jayasurya Jayan ! Jayan chetta as allways you can be really proud of ur son :)
Meera Nandan
Brilliant work Aadhi ... great going... good luck
Vijay Babu
Welcoming the next generation ! Super attempt ,Jr. Jayasurya Mone advaite ... oru date lock cheitere ...!
Ganesh Raj
I remember meeting Adi for the first time during the celebration of Pretham and he told me he is directing a short film. I was super impressed just to hear that a 10 year old is taking up such a task! But soon enough he started talking to me about how much he liked Aanandam and then started to give his analysis of the film, he went into such detail and the kind of things he noticed in the film, about the way we shot and the way its written, not even professional reviewers had noticed. That's when I knew that this is not just any other 10 year old, this one's got an eye for story telling! And boy what a way to start off your career. Your acting has floored me just as much as your writing, direction and editing has Adi! Super proud of you. Our industry has another rising young director to look forward to. :)
Ashiq Usman
Good one Aadi☺️☺️
Sandra Thomas
An extraordinary talent.
Vivek Ranjit
Very well done, Advaith Jayasurya!! Jayettan & Saritha Chechi, you must be such proud parents! You have an in-house director, editor & actor!
Sachin Ramdas
Actor Jayasurya's son did a wonderful short film recently and is winning plaudits all over.Little does everyone know that couple of years back , my friend Thamar KV had done the exact same thing. Advaith's film is simply a scene by scene copy of the original. I appreciate the young man for coming up with a short film but the route taken is not a right one.He may or may not have been the one who had written this story.