We've always seen the legendary action hero Clint Eastwood doing most of the talking in the big screen with his guns. In real life too, well, it's still difficult to get past the Good, Bad and the Ugly actor. And yes, it is 2018.
Eastwood, 87, captained his team to a win at the 3M Celebrity Challenge golf event Wednesday at the Pebble Beach in California.
The celebrity golf event serves as a curtain raiser to the AT&T Pebble Beach Pro-Am golf tournament, which takes place at the Pebble Beach Golf Links, Spyglass Hill Golf Course and the Shore Course at Monterey Peninsula Country Club.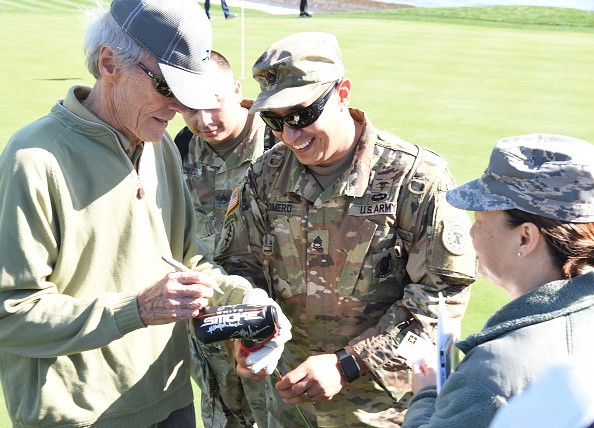 Eastwood and his team defeated the team led by Bill Murray -- the legendary American actor who played the role of Bob Harris in 'Lost in Translation' (2003) -- and raked up $100,000 for the charities.
Clint Eastwood's team: Juli Inkster (legendary female golfer), Alfonso Ribeiro (American actor), Clay Walker (country musician).

Bill Murray's team: Josh Duhamel (American actor), Kelly Rohrbach (actress-model), Toby Keith (country music star).
Eastwood won the most holes 4 to 1 in the match. It looked like a slow start but then, 'Dirty Harry' looked to seal things by blasting a 12-footer to halve the hole, as reported by SFGate.
From leading his team to a victory in the 3M Celebrity Challenge, to hitting the honorary first shot at the Million Dollar Hole-in-One, I think it's safe to say Clint Eastwood is the MVP of the day. ? pic.twitter.com/K0mL4Rbf4H

— ATTPebbleBeachProAm (@attproam) February 8, 2018
"If Clint Eastwood was a car he'd be a Ferrari Testarossa psyched to go 180 in a blink of an eye," Tom Gross, the announcer at the golf event, made a humorous remark (as quoted by ChicoER).
Still keen on killin' a man (competitor, here), aren't you Dirty Harry? Eastwood's famous dialogue from the Unforgiven movie, still goes strong for him: "It's a hell of a thing, killin' a man. You take away everything he's got, and all he's ever gonna have."