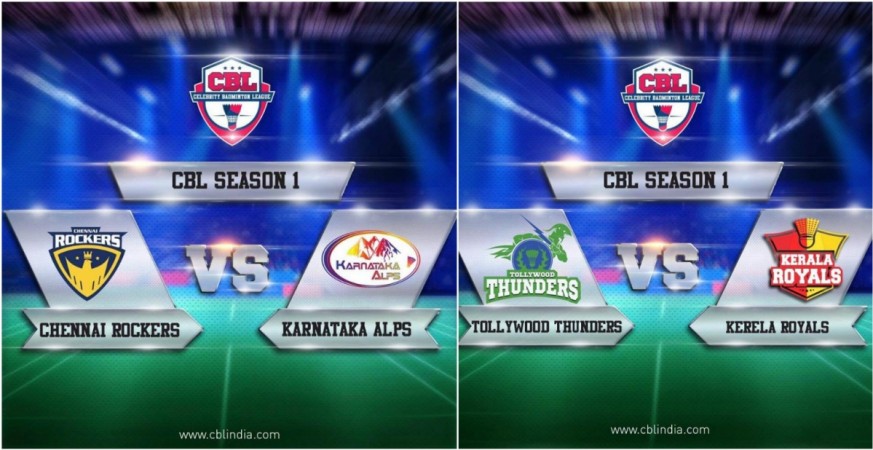 The much-awaited Celebrity Badminton League (CBL) started on a grand note in Kochi on September 24, with the maiden match between Chennai Rockers and Karnataka Alps. Megastar Mammootty and Kerala team captain Jayaram Jayaram kicked off the match between Kerala Royals and Tollywood Thunders at Regional Sports Centre in the city.
The league matches under three major categories – Men's Doubles, Mixed Doubles and Women's Doubles will take place in Kochi, Chennai, Bengaluru, and Hyderabad. The finals have been scheduled at Kuala Lumpur in Malaysia on November 12.
Check live updates of the CBL 2016 here:
In the first men's doubles match between Karnataka Alps and Chennai Rockers, Karnataka team won.
In the first women's doubles match too, Karnataka Alps won after competing against Chennai team.
Karnataka Alps won the third men's doubles match against Chennai.
Kerala Royals hit their best shot and won against Tollywood Thunders
"#CBL Boban Kunchako and Baiju win the Men's Doubles for #KeralaRoyals against #TollywoodThunders. Our First Win! [soc]," Mamta Mohandas tweeted.
Lord of the strings Kerala Royals won against Tollywood Thunders in men's doubles third match
Tollywood Thunders won against Kerala Royals in mixed doubles.
Kerala Royals won for the third men's doubles against Tollywood Thunders
Tollywood Thunders won the fourth match in mixed doubles against Kerala Royals
Karnataka Alps and Kerala Royals are the finalists of the first season of CBL.
Kerala Royals Team
| | |
| --- | --- |
| Team Owner | Ranjit Karunakaran |
| Brand Ambassador | Mamta Mohandas |
| Team Motivator | Pearle Maaney |
| Team Captain | Jayaram |
| Vice Captain | Narain |
| Male Players | Baiju, Arjun Nandakumar, Saiju Kurup, Sekhar Menon, Rajeev Pillai, Sreenath Bhasi, Rony David |
| Female Players | Ranjini Haridas, Parvathi Nambiar, Rosin Jolly |
Tollywood Thunders Team
| | |
| --- | --- |
| Team Owners | Nandiniy Vijay, Sagar Pentela, Dheeraj |
| Brand Ambassador | Naga Chaitanya |
| Team Motivator | Lakshmi Manchu |
| Team Captain | Sudheer Babu |
| Vice Captain | Tarun Kumar |
| Team Supporter | Charmme Kaur |
| Male Players | Nikhil, Kaushal Manda, Anil, Krishna Chaitanya, Sathya Dev and Naveen |
| Female Players | Tejasvi Madivada, Sanjana Galrani and Apoorva Srinivasan |
Chennai Rockers Team
| | |
| --- | --- |
| Team Owner | C.R.Venkatesh |
| Brand Ambassador | R. Madhavan |
| Team Motivator | Amala Paul |
| Team Captain | Arya |
| Male Players | Bharath, Vaibhav, Amitash, Prasanna, Munna Simon, Shanthanu, Abhinay Vaddi |
| Female Players | Ineya, Gayathri, Suja Varunee, Rupa Manjari |
Karnataka Alps Team
| | |
| --- | --- |
| Team Owners | Justin, Sanghavi |
| Brand Ambassador | Puneeth Rajkumar |
| Team Motivator | Aindrita |
| Team Captain | Diganth |
| Male Players | Indrajit Lankesh, Ravi Chetan, Yogesh, Karthik, Jagadish, Prajwal Devraj, Arjun.U.A |
| Female Players | Kavitha Lankesh, Abantika Deka, Disha Poovaiah, Krishi Thapanda |
-
-
-
-
-
-
-
-
-
-
-
Tollywood Thunders win the fourth match in mixed doubles againstKeralaRoyals