All you really need to get married is love. Isn't it? If you do have the means, though, why not go all out? Most celebrity weddings are grand affairs with exotic flowers, international cuisines, wedding gowns costing more than a common man's annual salary and guest lists longer than your address book. Here's a look at some of the most extravagant celebrity weddings.
Kim Kardashian and Kanye West
The extravagant wedding of Kim Kardashian and Kanye West at the Forte di Belvedere in Florence, Italy in May 2014 was the source of regale for many fans across the world. The bride wore a Givenchy Haute Couture gown and was walked down the aisle by her stepfather, while celebrity event planner Sharon Sacks planned the couple's nuptials.
The Kardashian-Jenner clan was in Europe throughout the wedding week and didn't shy away from sharing photos of the celebrations on social media. On Thursday evening, Kim celebrated her bachelorette party with girlfriends at the Louvre and Eiffel Tower. Family and friends, including Serena Williams, NeNe Leakes, and André Leon Talley, officially kicked off the wedding weekend in style on Friday with a special reception at the Chateau de Wideville (designer Valentino Garavani's Paris home), followed by a private guided tour of the famed grounds of Versailles. The soiree also featured a performance by Lana Del Rey.
Kate Middleton and Prince William
Be it the announcement of their engagement or introducing their baby, Royal couple Kate Middleton and Prince William has done it with elegance and class. Their wedding was no different, if not more ostentatious; if people from 180 countries were watching your wedding, wouldn't you go a little overboard as well? On 29 April 2011, Westminster Abbey was decorated with flowers that cost $800,000, an eight-tiered wedding cake with white icing and 900 sugar paste flowers that cost $80,000, as the bride walked down the aisle in a dress that cost $70,000. Here is a slideshow of the pictures of the Royal Wedding posted by the BBC.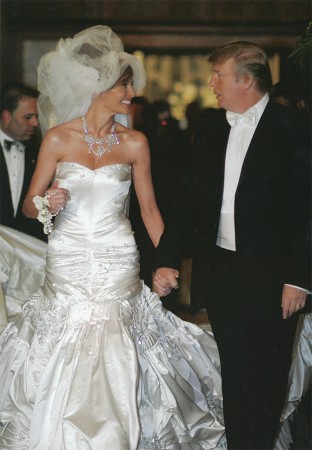 Melania Trump and Donald Trump
As is the case with anything Donald Trump does, wedding to his third bride, model Melania Knauss on 22 January 2005 made quite a splash, with the happy couple saying "I do" at the Bethesda by the Sea Episcopalian church in Palm Beach, Florida.
Knauss wore a custom-designed Dior dress made from 50 pounds of fabric, 1,500 crystals, rhinestones, pearls and a 13-foot train and rumored to cost between $100,000 and $200,000. After the ceremony she changed into a Vera Wang dressed to enjoy the night with 500 guests, $650 bottles of champagne and a 200 pound cake with 3000 icing roses.
Liza Minnelli and David Gest
The cartoonish couple Liza Minnelli and David Gest enjoyed an extravagant wedding at Marble Collegiate Church in New York City on 16 March 2002, even though their marriage ended nastily. The $4.2 million affair was attended by over thousand guests, with best man Michael Jackson and maid-of-honor Elizabeth Taylor. The guests were treated to high-powered performances by Tony Bennet, Stevie Wonder, Natalie Cole, a 60-piece orchestra and a 6-foot high, 12-layer wedding cake.
8.- Elizabeth Hurley y Arun Nayar El costo del matrimonio fue de $ 2.5 millones, pic.twitter.com/0lAotMEIIr

— alfa973 (@alfa973) May 28, 2014
Elizabeth Hurley and Arun Nayar
While many couples who decide on destination weddings have one small ceremony abroad and another, less formal party for friends back home, Elizabeth Hurley and Arun Nayar needed no such restriction. The couple hosted one ceremony at England's Sudeley Castle on 3 March 2007, where close friend Elton John gave her away and also sang at the reception, and another, a week later at the Umaid Bhawan Palace in India. After the Hindu ceremony, the festivities culminated in a lavish dinner on the ramparts of the Meherangarh Fort overlooking Jodhpur.