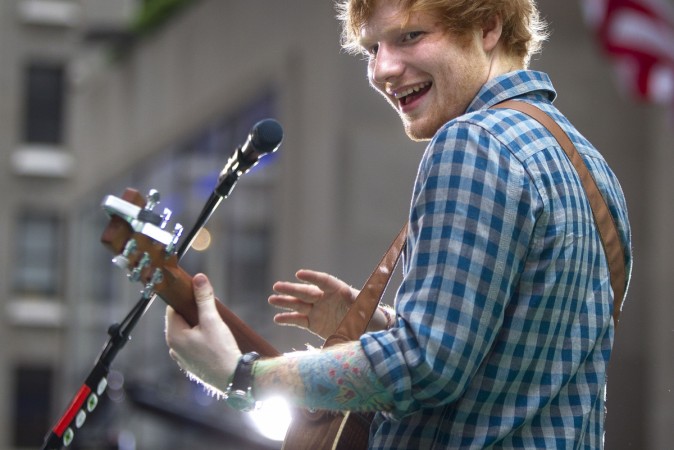 A number of Hollywood celebrities are reportedly angry with Ed Sheeran for spilling their secrets unintentionally during his various interviews.
Taylor Swift, for instance, is miffed that Sheeran revealed about her crush on Orlando Bloom, and Courteney Cox has asked the singer to keep his mouth shut about the actress' love life with Johnny McDaid, UK's Daily Star reported.
A source told the publication that Sheeran's loose lips are turning out to be an embarrassment for the stars.
"These are all big stars who are used to being surrounded by publicists and lawyers to make sure nothing leaks out without prior approval, the source said.
"But Ed keeps going rogue and spilling all kinds of secrets. He's not said anything malicious or done any real harm, but they worry he's a loose cannon and he'll put his foot in it."
The source continued: "She was annoyed with Ed when he said in a recent interview how she should date Orlando Bloom – especially as she'd admitted in private how she had the hots for him.
"And Courteney had a quiet word with Ed earlier this month, asking him to stop talking so openly about her rom­ance with Johnny McDaid.
The English singer-songwriter now wants to regain the trust of his pals, and has vowed to be more careful with his tongue.
"Now he's hoping he doesn't get a bad reputation for not being trustworthy. He is going to try and be more careful in interviews," the source said.
Interestingly, Sheeran has been linked to both Swift and Cox in the past. And although he has never dated either of these leading ladies, he has been a part of their love affairs.
For instance, it was Sheeran who introduced the former "Friends" star to her Snow Patrol rocker fiancé.
"I wasn't allowed to talk about this, actually, but it's just gone public so... My housemate [McDaid] who I've lived with for a year, I introduced him to Courteney Cox. They started dating and [are] crazy about each other," he said in an interview with OMG! Insider soon after Cox got engaged to McDaid.
"I ended up spending a lot of time living in her beach house and therefore bumping into all these random people. We spent Thanksgiving eve at Jennifer Aniston's before spending the day at Courteney's."
And when it comes to Swift, Sheeran is close with the "Love Story" singer's ex, One Direction's Harry Styles.