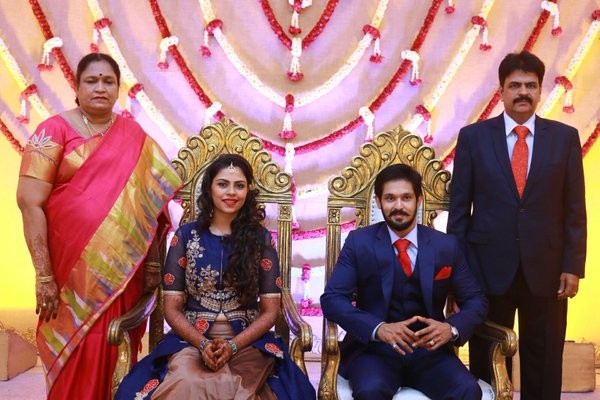 Tamil actor Nakul married his girlfriend Sruti Bhaskar at Rani Meyammai Hall, Chennai, Sunday, Feb.28. The wedding was performed as per Hindu customs and was held between 9.30 and 11 a.m.
A report on Indian Express says that the couple tied the knot exactly at 10.41 a.m. in the presence of their parents, relatives and friends. However, not many from the film industry were part of the marriage.
On the same evening, the couple organised their wedding reception, which was attended by some of the big names of Kollywood. Powerstar Srinivasan, Karthi, Dhananjayan Govind, Sathish ("Kaththi" fame), "Theri" director Atlee Kumar, P Vasu, Sibiraj, Vijay's wife Sangeetha, Jayam Ravi, Khushboo, Pandiyarajan, Manobala and many others were spotted at the occasion.
Nakul and Sruti Bhaskar, who works at SPI Cinemas, got engaged in November 2015. They have been in the love for over five years and decided to take their relationship to the next level last year.
"In front of her, I get to be the person I really am. It's been a life-changing experience because when the things you never believed in suddenly became reality, it feels like this," he said, and added that marriage should happen around next year," the daily quoted the actor as saying earlier.
Nakul started his acting with Shankar's "Boyz" and was part of a few successful films, including "Kadhalil Vizhunthen." Currently, he is busy with "Narathan," "Brahma.com," and "Amali Thumali."
Mrs. Sangeetha Vijay @ @Actor_Nakul - Sruti Wedding Reception pic.twitter.com/hiTEzflVWj

— Nikkil Murugan (@onlynikil) February 28, 2016
Actor Nakul - Sruti Wedding Reception Stills On https://t.co/8dEs2q41kn pic.twitter.com/eL1ChkR7In — Nikkil Murugan (@onlynikil) February 28, 2016
Dir @Atlee_dir & Priya @ @Actor_Nakul - Sruti Wedding Reception pic.twitter.com/3lHVRpzB7s

— Nikkil Murugan (@onlynikil) February 28, 2016
Actor @actor_jayamravi @ @Actor_Nakul - Sruti Wedding Reception pic.twitter.com/78udugnYXf — Nikkil Murugan (@onlynikil) February 28, 2016
Actress @khushsundar @ @Actor_Nakul - Sruti Wedding Reception pic.twitter.com/Ze3GHau1jq

— Nikkil Murugan (@onlynikil) February 28, 2016
Actor @KarthiActor @ @Actor_Nakul - Sruti Wedding Reception pic.twitter.com/bqFKV3AmS0 — Nikkil Murugan (@onlynikil) February 28, 2016