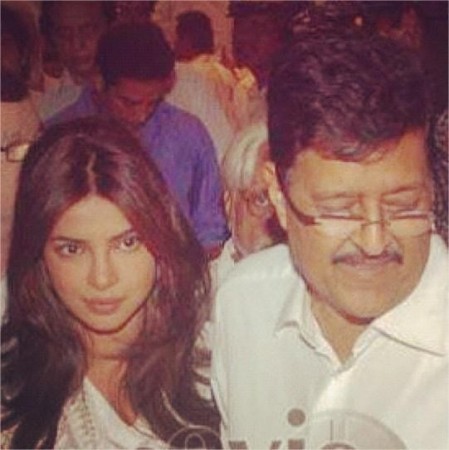 Several B-town celebrities, including Shah Rukh Khan, Deepika Padukone and Ranbir Kapoor attended the funeral of Priyanka Chopra's father, Dr Ashok Chopra on Monday evening.
Dr. Chopra, who was suffering from Cancer, passed away at Kokilaben Dhirubhai Ambani Hospital in Andheri, Mumbai, on Monday at around 12.30 pm. The body was taken to their residence at Yari Road before being taken to Oshiwara Crematorium ground.
The last rites were performed by Priyanka's younger brother Siddharth at around 5.30 pm.
The funeral was attended by family, relatives and friends of the family. B-town celebrities also attended the funeral to console the shattered Priyanka.
Celebrities including Karan Johar, Shahid Kapoor, Ranveer Singh, Parineeti Chopra Anurag Basu, Madhur Bhandarkar, Ramesh Sippy, Ramesh Taurani, Daboo Ratnani, Manish Malhotra, Puneet Malhotra, Sanjay Leela Bhansali, Uday Chopra, Sophie Choudry, Sanjay Kapoor, Sonali Bendre, Shahana Goswami, Vipul Shah, Hrithik Roshan and Kunal Kohli were present at Dr. Chopra's funeral.
Dr. Chopra, who was a physician with the Indian Army before retirement in 1997, was admitted to the hospital two weeks ago in a critical condition. He was first diagnosed with Cancer in 2005.
Priyanka Chopra was very close to her father and also got a tattoo on her right wrist that read "Daddy's lil girl" to show her love for him.
On her father's illness, the actress said that she was happy that she had taken care of her ailing father's and provided him with the best facilities and treatment.
"His illness was a big blow. My dad always told me to keep working normally. I'd never let him down by letting the strain show. Now that he's healing I feel grateful.... grateful that this trauma happened at a time when I could afford his treatment. I'm so relieved I could afford the best treatment. If it had happened two years ago I wouldn't have been able to do anything. I've always believed daughters care as much as sons, if not more," IANS quoted the actress as saying.