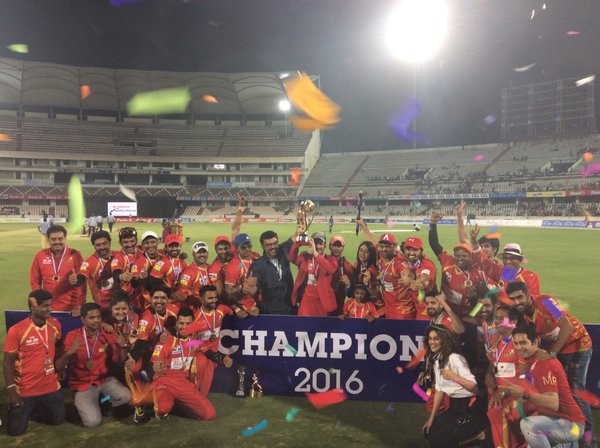 Kiccha Sudeep's Karnataka Bulldozers lost to Telugu Warriors in the high-scoring Celebrity Cricket League (CCL 6) final match on Sunday, Feb. 14. This is the third time the Sandalwood team has failed to register a win in the last stage of the tournament.
Having won the toss, Karnataka Bulldozers opted to bat first and put up a huge score of 207 runs on board. It was believed the Sandalwood team would seal a victory easily to clinch the CCL trophy for the third time.
But brilliant batting by Telugu Warriors took the match away from Karnataka Bulldozers. Sachin Joshi's stunning century ensured the Tollywood team crossed the victory line with ease.
Karnataka Bulldozers fans were obviously disappointed for not just losing the match but the manner in which the Sandalwood team was defeated. Even though the Karnataka team had posted a good score, the Tollywood team reached the target comfortably. In the end, it was like a one-sided clash. This hurt the fans of Karnataka Bulldozers the most.
Hence, Sudeep, the captain of Karnataka Bulldozers, has apologised to them for not winning the cup, but also thanked the audience for supporting them. He tweeted: "Sorry fr not being able to lift the winners trophy.we did try hard.Thanks fr all the support n unconditional love. Congratssss TelguWarriors. (sic)"
This is the fifth time Karnataka Bulldozers had entered the CCL final. While the Sandalwood team were champion twice, they have now faltered at the final hurdle thrice.
With this victory, Telugu Warriors joined Chennai Rhinos and Karnataka Bulldozer in lifting the trophy twice.