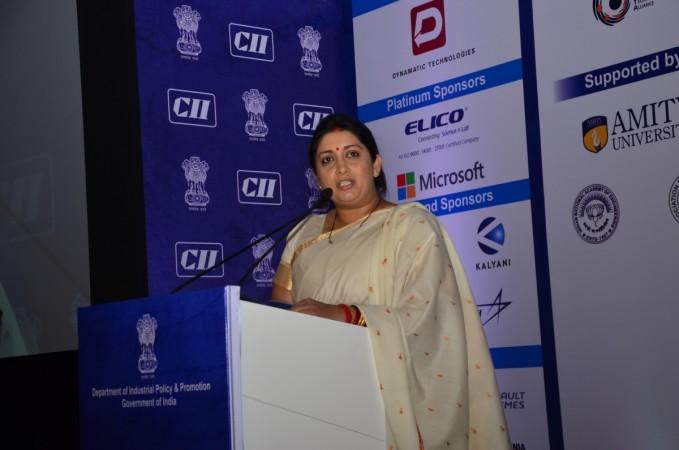 Union Minister Smriti Irani lashed out at a leading daily for reporting that CBSE schools will remain open on Christmas to observe "good governance day" and said it will be celebrated across the country as always.
Posting on the Twitter handler of the newspaper, Irani slammed it for publishing an article without checking facts.
"Dear @timesofindia deliberate mischief by ur reporter on the front page today. All schools closed for XMas, essay competition only online," she tweeted.
"I wish this reporter had the decency to at least check with people from TOI who cover the HRD beat. Or for that matter verify the same with Secretary School Education, unless the idea was to deliberately misreport," she tweeted.
The Times of India reported early on Monday that Ministry of Human Resource Development (HRD) has issued a circular, asking all the CBSE schools to remain open on Christmas to indulge the students into various activities to mark "good governance day."
The Union Government-run Navodaya Vidyalayas issued a circular to schools in rural areas asking them to organise an essay competition on 24-25 December, the topics for which will be declared one day before, the TOI report said.
It reported that the HRD Ministry also wanted the schools to organise an essay writing competition and celebrate the birthdays of former Prime Minister Atal Bihari Vajpayee and Hindu Mahasabha leader Madan Mohan Malviya.
However, Irani dismissed the allegations that she asked schools to remain open on 25 December, but has agreed on conducting an essay competition, which she said is voluntary. Questioning the credibility of the newspaper and its report, Irani demanded a retraction on Tuesday.
"If truth is a virtue you cherish, can I see a retraction tomorrow on the front page in bold," she demanded.
Although she has denied declaring Christmas a working day, Twitteratis have lashed out at her for keeping an essay competition on Christmas.
"Dear @smritiirani can u pls ask ur ppl and let us know why such "voluntary"competitions need to coincide w/ christmas break?" Sabina Y tweeted.