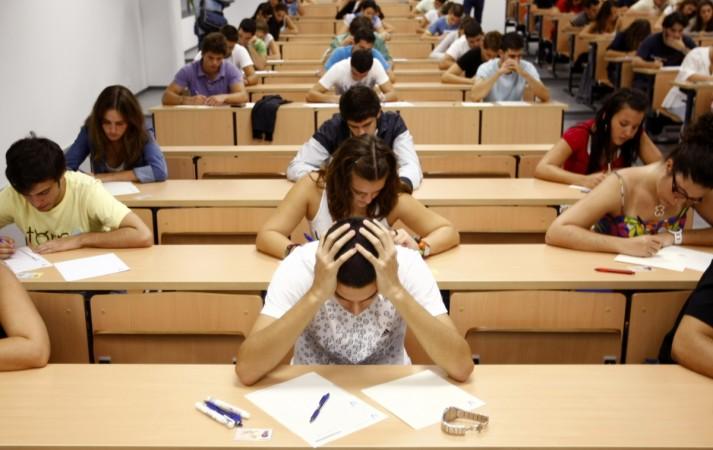 In the run-up to the upcoming board exams commencing on March 5, Class 10 and Class 12 students from across India have turned to Central Board of Secondary Education (CBSE) helplines to answer their exam-related queries.
Apart from exam stress, other significant questions that the CBSE officials were asked on the toll-free helpline, included post-breakup stress, arguments between parents and children, and not being able to remember answers, the Hindustan Times reported.
Around 20 lakhs students will attend the Class 10 and Class 12 board exams this year. After a gap of six years, the CBSE Board announced that board exams would be made mandatory for Class 10 students from this year onward.
Officials from India and abroad also answered the students' queries ranging from exam stress, memory loss and ill-treatment from parents.
A total of 91 counsellors helped the students battle the exam jitters as they received over 6,000 calls from Class 10 and 12 students, the daily reported.
The top issues discussed over the calls by students were:
Parental pressure

Break up-related issues

Arguments between parents and children

Inability to concentrate

Memory loss

Career Options
"I had a break up recently and I don't feel like studying at all. I can't think of anything else but her," a student was quoted by HT.
The CBSE students have been availing the helpline services that started from February 1 until April 13. The helpline is operational early morning from 8 am to 10 pm late night for students who seek to counsel through this outreach programme by CBSE.
"This year 91 Principals, trained Counsellors from CBSE affiliated government and private schools, few Psychologists and Special Educators will participate in tele-counselling and address exam related psychological problems of the students. 71 of them are available in India while 20 are located abroad," CBSE said in an official statement.
The counsellers who are a part of this helpline programme are teachers and principals based in different cities from India and abroad. They answer questions based on administrative queries and personal issues to students who seek answers straight from the horse's mouth.
"We get two kinds of calls — one is about administrative issues such as uploading signature and photo, and others seeking counselling. We take basic details of students and transfer the call to a counsellor," said Suraj Yadav, who has been working with CBSE for two years." a CBSE official was quoted by HT as saying.
The CBSE's initiative to provide psychological and administrative counselling has been a blessing in disguise to the anxious students who are caught up in the exam-related stress.
The CBSE helpline number is 1800 11 8004. As soon as the call is connected, the students would be greeted by an operator following which the counsellors attend to the students'' queries.