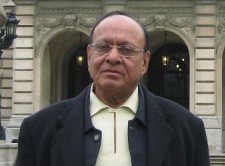 The Central Bureau of Investigation (CBI) has registered an FIR against former Union minister Shankarsinh Vaghela and six others in connection with the ₹ 1,700 crore National Textile Corporation (NTC) land scam.
The then chairman-cum-managing director of NTC, Ramachandran Pillai, is among the six others named in the FIR for selling its prime property in Parel, Mumbai to a private company.
The CBI conducted raids at nine locations in four different cities, including New Delhi, Gandhinagar, Mumbai and Kolkata. They are also conducting checks at the residence of Vaghela and others, according to PTI sources. The search at all locations is said to be underway.
Vaghela became the chief minister of Gujarat for about a year in 1996 with the support of Congress after he split with the BJP.
He held textile ministry as a Cabinet minister when the UPA came to power at the Centre in 2004. At present, he is the Leader of Opposition in the Gujarat Assembly.