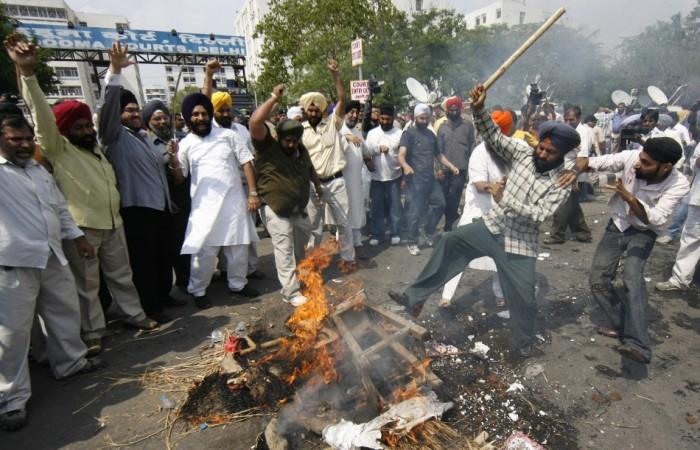 The Central Bureau of Investigation (CBI) on Monday indicted senior Congress leader Sajjan Kumar for allegedly inciting a mob of miscreants that led to 1984 anti-Sikh riots as the agency finished its investigation. It also accused a section of Delhi police department of letting rioters have a free run.
The top investigating agency alleged that the killing of thousands of Sikhs after the assassination of then Prime Minister Indira Gandhi was not "spontaneous reaction" but a result of well-planned and executed conspiracy.
Further the agency said that the rioting was backed by Delhi police and other powerful personalities targeting people belonging to a particular community.
The Delhi police department is being accused by the CBI for turning a blind eye to the violent incidents that led to the death of thousands Sikhs.
Sajjan Kumar is being accused of motivating communal violence by feeding hate thoughts to the rioters that allegedly led to the killing of six Sikhs in Delhi Cantonment area. Sajjan Kumar, a senior Congress leader, was the former Member of Parliament representing outer Delhi constituency then.
The CBI said that Sajjan Kumar delivered an inflammatory speech at Delhi's Raj Nagar in which he set off the violent mob on the communal violence allegedly saying that "not a single Sikh should survive."
The CBI investigation nailed the police control department of not having any proper records of major rioting incidents. It also said that the cops refrained from recovering the dead bodies that were lying on streets after a course of violent incidents.
However, the Delhi police officials have outrightly denied the entire allegations by the probing agency. The police authorities and other accused in the 1984 anti-Sikh riot case may get chance to make their counter-arguments in the court of law for the three successive days starting May 15.
The 1984 anti-Sikh riots erupted after the assassination of Indira Gandhi by her personal bodyguards who belong to the Sikh community. The unnatural death of India's famous Prime Minister, Indira Gandhi, led to the most infamous riots, in which thousands of Sikhs were murdered.