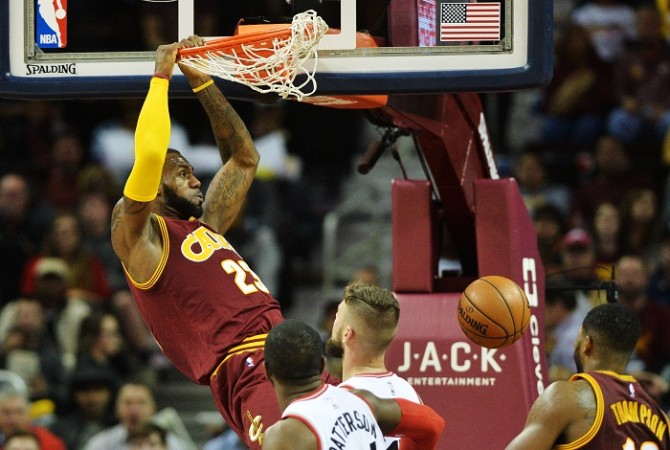 High-scoring games always bring that entertainment factor in the NBA, and it was no different when Cleveland Cavaliers hosted Toronto Raptors on Tuesday. Stars from both the teams lit up the Quicken Loans Arena with their dazzling display, but it was the home team, which emerged victorious winning the match by four points, 121-117.
LeBron James and Kyrie Irving continued their impressive form against the Raptors as well. Their combination was brilliant, and troubled the Raptors defenders. James top-scored for the Cavaliers with 28 points, Irving finished the night with 24 points.
Besides the duo, other players such as Kevin Love (19 points) and Tristan Thompson (15) looked decent, but the former, who is a good shooter from beyond the arc had a disappointing night from the three-point range.
However, with good teams, someone or the other always deliver and takes their game to the next level. And in this match, it was Channing Frye, who was quite unstoppable from the three-point range. He scored 21 points, which included five threes. The Raptors may have not have been prepared for such an amazing performance from Frye.
Though Raptors may have lost the game, one should not take anything away from the performance of Kyle Lowry and DeMar De Rozan, who have both been brilliant in the league so far. They scored 28 and 26 points respectively, but failed to help their team emerge triumphant.
But the Raptors did give a great fight to the Cavaliers, who have now won nine games in the NBA 2016-17 season. The match was evenly contested in all four quarters. Raptors have been good this season, and they need to forget this loss, and prepare for the next massive encounter against the Golden State Warriors on Wednesday.