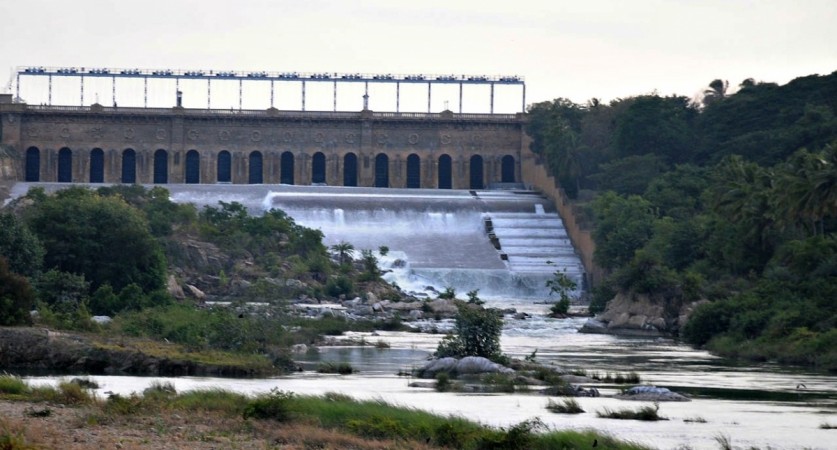 The Supreme Court on Monday modified its earlier order issued on Sept. 5, 2016, and asked Karnataka to release 12,000 cusecs of Cauvery water every day to Tamil Nadu until Sept. 20, 2016. The modified quantum of water is 3,000 cusecs less than what was earlier directed by the apex court to be shared between the states.
The SC had agreed to conduct an early hearing on Monday after an application was filed by Karnataka seeking a reduction in the amount of water that was directed by the apex court to be released from the Cauvery river to Tamil Nadu.
The application looked to reduce the quantum of water from 15,000 cusecs to 10,000 cusecs a day. The Karnataka government, in its application, also told the Supreme Court that the "agony claimed by Tamil Nadu on water crisis is not there."
The Cauvery dispute has caused tension between Karnataka and Tamil Nadu in the past few days. After the SC order last week, farmers in Karnataka and activists of the Cauvery Horata Samiti blocked roads in Shrirangapattana taluk of Mandya district, and a bandh was called by pro-Kannada outfits on Friday, which disrupted normal life in the state.
In another incident this morning, the Woodlands hotel, a Karnataka establishment, in Mylapore,Chennai was attacked allegedly by a fringe Tamil group. The attackers broke glass panes and windows and allegedly left pamphlets warning of more such attacks on Karnataka establishments if Tamils were targeted in Karnataka.
The incident came a day after a video went viral on social media showing a 22-year-old Tamil youth being beaten by a group of men in Bengaluru for allegedly posting "derogatory" remarks on social media against Kannada film actors.
Also Read: Cauvery protests: Kannadigas targeted after video showing Tamil Nadu student being beaten goes viral [VIDEO]