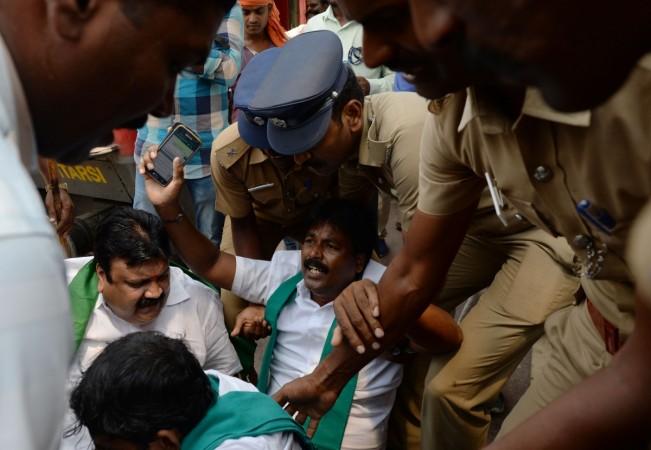 Dravida Munnetra Kazhagam (DMK) and other Opposition parties in Tamil Nadu are observing a state-wide bandh Thursday, April 5, due to the central government's failure to set up the Cauvery Management Board (CMB). DMK leader MK Stalin has also been detained in Chennai.
Normal life was affected in parts of the state after many demonstrators blocked traffic.The protests have been going on for a week as DMK blames the ruling party All India Anna Dravida Munnetra Kazhagam (AIADMK) for not putting enough pressure on the central government.
Stalin had earlier announced the 'Cauvery Rights Retrieval Yatra' and said that the party will welcome prime minister Narendra Modi with black flags during his visit to Chennai April 15, NDTV reported.
Quick facts
DMK along with its allies are observing a state-wide bandh April 5, Thursday.
Congress, CPI (M) and CPI have joined DMK in support of the bandh.
DMK leader Stalin has been detained by the police for blocking roads.
The reason for the state-wide shutdown was the failure to immediately set up the Cauvery Management Board.
The dawn-to-dusk bandh has affected normal life as protestors came out on the roads and stopped traffic in certain cities.
Many Metropolitan Transport Corporation (MTC) buses and local trains functioned normally in Chennai.
The suburban buses and trains are plying without any disturbances and on schedule.
Many shops and businesses across Tamil Nadu have been shut down.
Many police personnel have been deployed along Marina Beach to avoid protests.
Here are the pictures and videos of the protest: