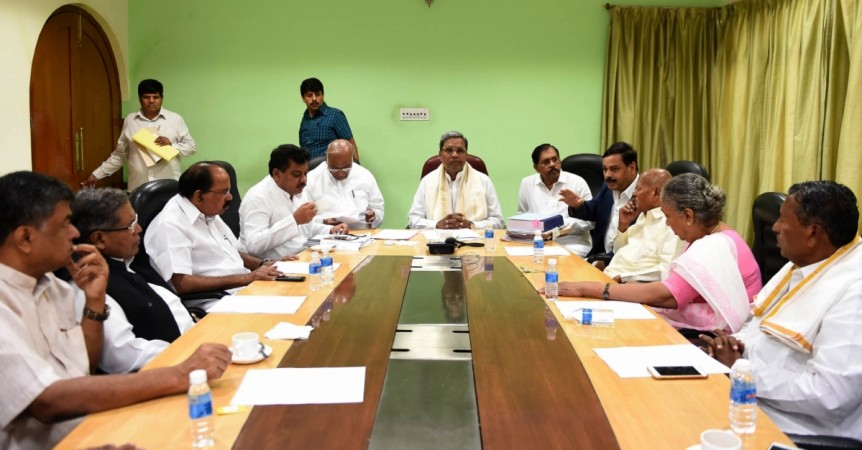 A special legislature session will be conducted on Friday by the Karnataka government to decide whether they would comply with the Supreme Court order regarding releasing more water to Tamil Nadu or not.
"Governor Vajubhai R. Vala has convened the special legislature session on Friday after Chief Minister Siddaramaiah met him at Raj Bhavan and conveyed the decision of the cabinet and of the all-party meeting on Wednesday here," the official in the chief minister's office told IANS.
Chief Minister Siddaramaiah had chaired an all-party meeting recently to discuss the Cauvery water dispute. However, the Bharatiya Janata Party (BJP) had boycotted the meeting saying that a legislature session should be convened.
The Congress and the JD(S) parties have issued whips to their members directing them to attend the session, which will begin on Friday at 11 am.
"As we are in distress due to deficit monsoon rains and depleted reservoirs in the river basin, the state is not in a position to release any more water for cultivating the samba inter crop in the neighbouring state at the cost of supplying drinking water to Bengaluru, Mandya and Mysuru cities till next June," said the official.
The Supreme Court in its order had said that Karnataka has to release 6,000 cusecs daily for a week until September 27 from Thursday.
Karnataka has already released 12,000 cusecs daily until Tuesday as per the top court's September 12 order, which was a modification of its September 5 directive to release 15,000 cusecs daily for 10 days from September 7.
In a related development, Siddaramaiah met Union Water Resources Minister Uma Bharti in New Delhi and apprised her of the state's difficulty in giving more water to Tamil Nadu in compliance with the top court order.
"The chief minister has conveyed to Uma Bharti the grim situation in the state due to lower water levels in all the four reservoirs across the river basin and its struggle to meet the drinking water needs of the region till the onset of next monsoon," said the official.
With only 24 tmcft (thousand million cubic feet) water in the four reservoirs (Kabini, KRS, Harangi and Hemavathy), the state is already facing shortage of drinking water, which requires 27 tmcft, he added.
(With IANS inputs)