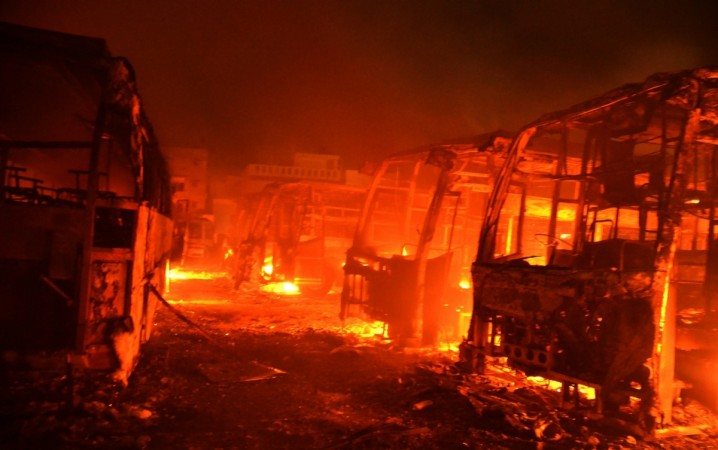 In what may sound like fiction to many people, police enquiry into the infamous bus-burning incident of 12 September in the wake of violent protests over Cauvery water dispute have revealed that a 22-year-old woman burnt a bus for a packet of biryani. In all, 42 buses belonging to a private travel agency, KPN Travels, were burnt on the day in Bengaluru.
Bhagyashree alias Bhagya, the woman, told the Bengaluru police that she belonged to a Kannada outfit called Kannada Kasthuri Sangatane and herself set fire to a bus apart from helping and instigating the mob that burnt 42 buses at D'souza Nagar in the city.
Bhagyashree is one of the 11 persons arrested by the police in connection to the shocking incident on 12 September when protesters singed Bengaluru after the Supreme Court rejected a plea by Karnataka to keep in abeyance its 5 September directing the state to release 15,000 cusecs of Cauvery water to Tamil Nadu.
Bhagyashree, who stayed with her family in close proximity to the depot where the buses were parked, is one of the nine women among 400 people arrested for rioting and arson on that fateful day. Her arrest came after the police watched the CCTV footage, which also showed her carrying a can of fuel to help the accused burn the buses.
"Investigations revealed that on Monday evening, a few youth who knew Bhagyashree went to her house and asked her to join them in the protest, where she would get biryani," a police officer told The Hindu. He also said that the woman confessed to setting a bus afire.
The involvement of an unidentified woman in the burning of the buses was first brought to light when seven men, including five from D'souza Nagar, were arrested by the police.
Bengaluru, which returned to normalcy after two days, on Wednesday, saw many business establishments losing crores of rupees as a result of the multiple disruptions and protests across Karnataka over the release of Cauvery water to Tamil Nadu on Supreme Court orders.
The case will come up for hearing again on 20 September. Karnataka is reportedly tense in the wake of another anticipated bout of trouble as the Cauvery Supervisory Committee, comprising representatives from Tamil Nadu, Karnataka, Kerala and Puducherry, is meeting on Monday ahead of the hearing. Schools in Mandya district of Karnataka have been asked to declare holiday on Monday, according to The New Indian Express.