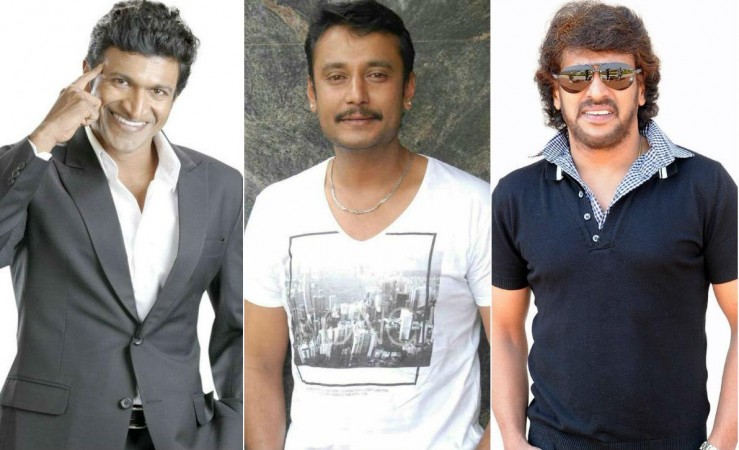 A petition has been filed against leading Kannada actors Upendra, Darshan and Puneeth Rajkumar in Tamil Nadu's Coimbatore district. The complainant claims that they instigated violence in Karnataka over the Cauvery water dispute. The court has been requested to register a case under the sedition law.
Advocate M Jeyabal has filed the petition on behalf of P Elangovan, president of Tamil Desiya Peravai. In the petition, the three Sandalwood actors have been accused of giving inflammatory speeches during the bandh resulting in attacks on Tamils and their properties in Karnataka.
"Tamil people were attacked by a group of Kannadigas. Trucks and omni buses bearing Tamil Nadu registration were also torched by protesters. I came across the actors' hate speeches, while their meeting was being air on multiple news channels," the Times of India quotes Elangovan as saying.
Sandalwood stars, including Upendra, Puneeth Rajkumar and Darshan, had supported the Karnataka bandh call given by pro-Kannada groups on Sept. 9. The film industry had also protested against the Supreme Court's order to the Karnataka government to release 15,000 cusecs of Cauvery water per day to Tamil Nadu for 10 days.
Later, the court modified the order and asked Karnataka to release 12,000 cusecs of Cauvery water every day to Tamil Nadu until Sept. 20.
The actors had voiced their concerns over the water-sharing issue. They had also spoken in favour of Karnataka and requested the state government to solve the dispute.
The court's order and attack on a Kannadiga driver in Rameswaram had apparently triggered violence in Karnataka. Meanwhile, the Cauvery Supervisory Committee met in New Delhi on Monday to decide the sharing of Cauvery river water between Karnataka and Tamil Nadu.