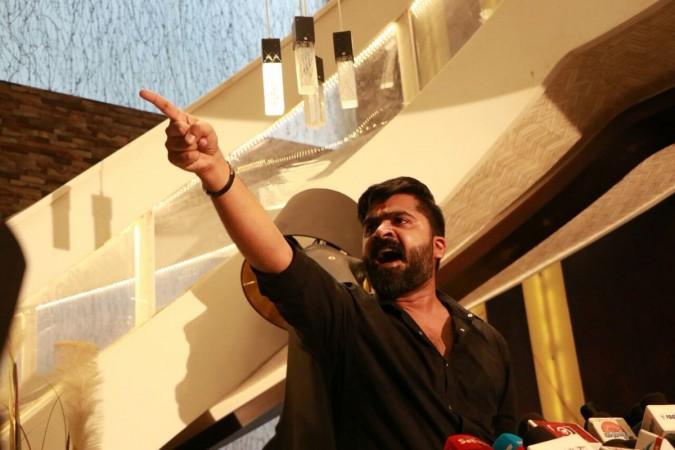 Simbu's call for unity among Kannadigas and Tamils over the Cauvery water issue has met with a positive response in Karnataka. Although a section of Tamil media mocked his initiative and was subject to trolls by social media users for what they considered to be "begging," his gesture has apparently bridged the gap between the people of Karnataka and Tamil Nadu.
The 35-year-old had asked Kannadigas to give a glass of water to Tamils between 3 pm and 6 pm Wednesday to spread the love. Responding to his request, people from different age groups and classes supported the campaign by sharing glasses of water with their friends, acquaintances, neighbors, and strangers.
People have shared photos on Twitter using hashtag #uniteforhumanity. More importantly, Kannada Samrakshana Vedia, a pro-Kannada group, also took part in the campaign. They apparently provided water to the people arriving on buses to Bengaluru from Tamil Nadu.
Meanwhile, Simbu has expressed his happiness over the positive response to his initiative. He has said that the campaign was to break the general perception that Kannadigas hate Tamils. "Over the years, we treated Kannadigas as villains of Tamils. My campaign was to change the false belief," he said in a statement.
He also thanked Tamils for supporting the idea and realizing that Kannadigas are not bad, an impression created by the political system. He called it the "victory of the people."
"A few media houses carried the news on the peace movement, but many buried the story by giving importance to other stories. I want to thank those media companies because it has made people realize that all these firms want people to fight for their personal gains rather than living in peace. It is our victory and let us spread love," he said.
Karnataka and Tamil Nadu have been at the loggerheads for decades over the Cauvery water issue. Politicians from both the sides have used the issue to stoke passions for their political gains.
Film industries from Tamil Nadu and Karnataka have also put their weights behind their respective states, which has only created further division among the people.
Kollywood had recently organized a silent protest against the delay in constituting the Cauvery Management Board, and to extend support to the ongoing agitation against the Sterlite plant in Thoothukudi. From Rajinikanth, Kamal Haasan to Vijay and Sivakarthikeyan graced the event.
Simbu did not attend the event stating that the silent protest won't solve the issue and held a press meet where he requested people from Karnataka to share a glass of water with fellow Tamilan as a mark of support to the initiative that unites the people.