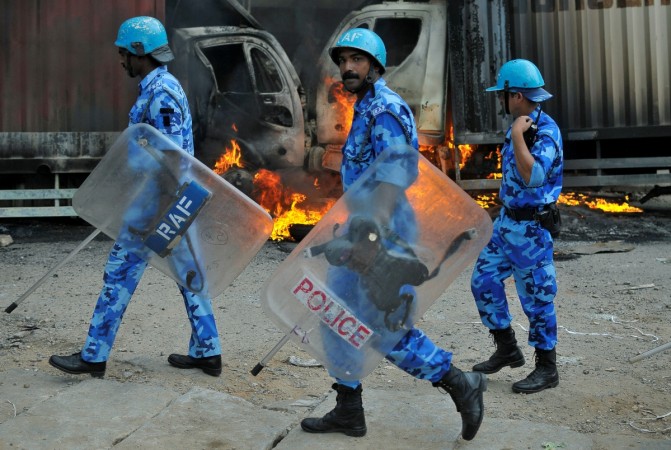 A surge of violence in Bengaluru on Monday due to the Cauvery water protests resulted in many buses being torched, police firing at violent mobs and Section 144 being imposed on the state capital. In this situation, the Bengaluru police have advised the residents to remain indoors.
Shortly after the Supreme Court's modified order on Monday for Karnataka to release 12,000 cusecs of water from the Cauvery river everyday to Tamil Nadu till Sept. 20, 2016, violent protests broke out in many areas of Bengaluru and other parts of Karnataka.
Within minutes of the SC order, there were reports of violent mobs torching buses and cars belonging to people of Tamil Nadu in Bengaluru. Soon, Section 144 of the Code of Criminal Procedure was imposed in the capital leading to deserted streets, shut shops and little activity on the roads by late evening.
A curfew was imposed in 16 police station limits across the city, while Section 144 will remain in place until Sept. 14.
Considering the critical situation in the capital, Bengaluru police have urged the residents to send them any information on violent activity in their area along with the pictures and the videos. The police have assured that strict actions will taken against the perpetrators.
The police have said that the situation in Bengaluru on Tuesday remained calm, although it has also advised the residents to stay indoors.
The police also asked the residents to dial 100 in case of any questions or queries they have, and the police will help verify the news. The Bengaluru police through their Twitter account also asked the residents to reach them on WhatsApp on 9480801000.
Around 15,000 police personnel including Civil, CAR, traffic, KSRP, RAF and CRPF personnel have been deployed across the city.
One person was killed in the police firing on Monday as the violent protesters took to various parts of the city and torched buses and other vehicles.