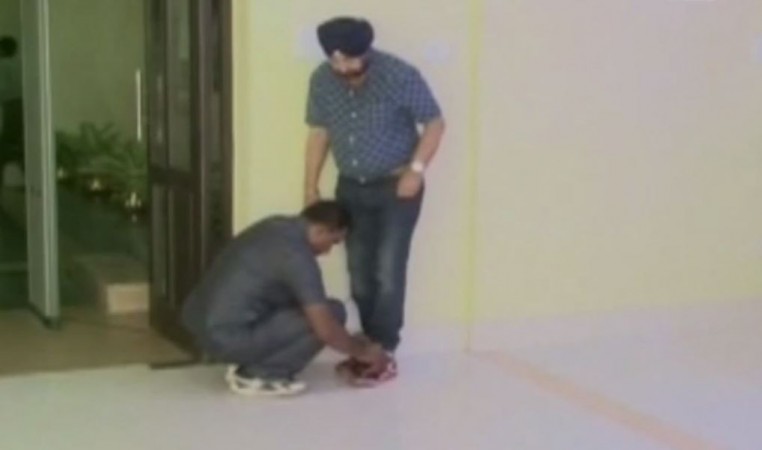 Trinamool Congress leader Rachpal Singh was caught on camera getting his personal security guard to tie his shoelaces in Kolkata on Monday.
The former IPS officer and Minister of Planning and Implementation was attending a function organised to pay tribute to eminent sculptor Ramkinkar Baij on his birthday at Nabanna secretariat, PTI reported.
While Singh was returning after offering floral tribute to Baij's photo, his personal security guard was seen rushing to him to tie the laces of his shoes.
Commenting on the incident, other police officers posted at the secretariat said they are bound to do such menial jobs from time to time in order to protect their jobs.
"What can I say? This is how we work here... We can't protest as we have to keep our jobs," an officer said, The Indian Express reports.
Opposition parties went on to slam the Mamata Banerjee-led TMC government, triggering a controversy. While BJP MLA Shamik Bhattacharya mocked at the mindset of TMC leaders, CPM leader Anisur Rahman brought up the matter for discussion at the Assembly.
"Looks like Rachpal Singh has not been able to come out of the ugly hangover of the time when he was an IPS officer. He has displayed that the TMC is ruling the people and not serving them," Bhattacharya said.
"As the Speaker was not present at that time, I took the permission of Chairman Parash Dutta and raised the matter. Trinamool Congress Minister Subrata Mukherjee tried to say that such issues cannot be raised just like that. But when I asked why and under what provisions, he had no reply. I raised the topic and called this act not only illegal but inhuman. This is the new culture of Nabanna," Rahman said.
Singh, however, has made no comment in connection with the incident as yet.