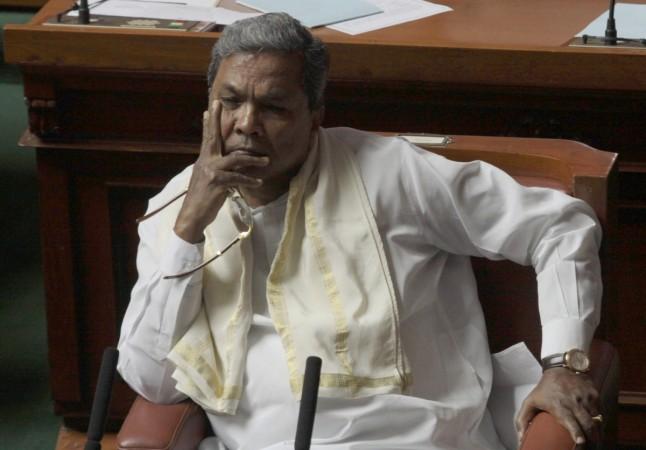 Karnataka CM Siddaramaiah was caught on camera getting his shoe laces tied by another person in Mysuru.
#WATCH: Karnataka CM Siddaramaiah caught on camera while getting his shoe laces tied by a person, in Mysuru. pic.twitter.com/HSgIysInkz

— ANI (@ANI_news) December 25, 2016
However, media advisor to the chief minister issued a clarification on Sunday saying: "It is hereby clarified that the person tying CM Siddaramaiah's shoe laces is not his staff but his relative."
Siddaramaiah also issued a clarification saying: "I clarify that nobody was putting my shoes on. The photo in question was taken while a relative had bent down to look for my shoes."
Siddaramaiah was in the news recently for a tweet where he said that Siachen — an area whose control is disputed by India and China — belongs to China while saying that he had a fruitful discussion with a delegation from China on infrastructure and development.
This is not the first time that a politician has gotten his shoe laces tied by someone else.
A minister from the Odisha government landed himself in controversy after he was caught on camera getting his shoe laces tied by his personal security officer (PSO) in Keonjhar during Independence Day celebrations in August this year. However, the minister dismissed the incident saying that he was a VIP.
"My left leg is in a lot of pain, I can't bend, hence PSO volunteered to tie my shoe laces. He is like my son. In fact, I have been consulting a doctor in AIIMS in Delhi, I can show you prescriptions," the minister said.
In May 2015, a West Bengal minister was caught on camera letting a police bodyguard tie his shoelace during a public function in Kolkata. The minister, Rachhpal Singh, did not stop the bodyguard from tying his shoelace.
Home Minister Rajnath Singh fell victim to bitter criticism after he was filmed getting his shoelaces tied by a BSF jawan in Ahmedabad during his visit to the Kutch border between India and Pakistan for inspection. The incident attracted a lot of criticism mainly because it involved an army soldier. Citizens severely lashed out seeing Singh's disrespect for the armed forces.