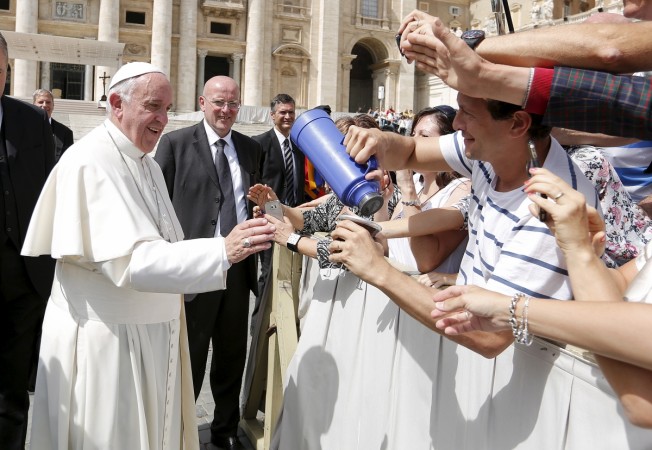 Pope Francis proved he is the most progressive pope ever when he said that the Catholic church should apologise to homosexuals and other people that were exploited or offended by it. The Catholic Church has till now maintained that homosexuals were sinners.
Speaking to reporters on Sunday at a papal news conference the pope said that they should not be "discriminated against."
"I repeat what the Catechism of the Catholic Church says: that they must not be discriminated against, that they must be respected and accompanied pastorally," Francis was quoted as saying by CNN.
"The Church must ask forgiveness for not behaving many times — when I say the Church, I mean Christians! The Church is holy, we are sinners!" he added.
"I believe that the church not only should apologise to the person who is gay whom it has offended," he further said, "but has to apologise to the poor, to exploited women, to children exploited for labour; it has to ask forgiveness for having blessed many weapons."
The pope has proved many times over that he is a man of the current age. He has recently publicly denounced bishops for sexual abuse, apart from criticising the church and shaking up its structure. He has also gained followers both Catholic and non-Catholic with his progressive stance about gender equality and climate change.
In April 2016, the pope had said that divorced and remarried Catholics can be welcomed into church life. While he had not opened doors for same sex couples then, his comment on Sunday leaves space for further changes in the church's stance towards the LGBT community.
In the conference, the pope also courted controversy calling the death of more than one million Armenians in the early 20th century as "genocide." Turkey criticised the barb as it has always maintained that it was a war and losses were incurred on both sides.
Turkey said that the pope, who was on a visit to Armenia, had a "crusader"-like mentality. The pope responded saying a "genocide" is what he has always called it and meant no offense.