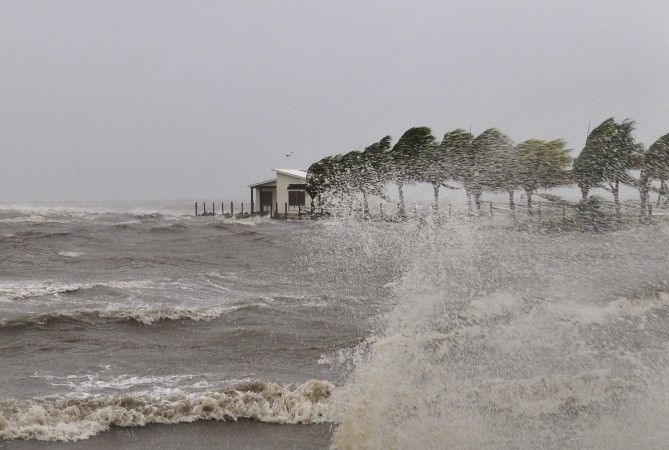 Update: 2.47 p.m. IST: One death has been reported as cyclone Winston made landfall on Fiji's main island Viti Levu, where capital Suva is situated.
An elderly man died in Fiji after his house collapsed, reported the New Zealand Herald.
The cyclone has been tracked going towards the third largest conurbation Nadi. Evacuations have begun in the island.
Original Story: State of Natural Disaster was declared for the next 30 days in the island nation of Fiji, Saturday, as world's strongest cyclone Winston hit the country.
Category five cyclone Winston is the strongest cyclone to hit Fiji in recorded history. It is travelling at a speed of 325 km per hour, and will hit the capital and largest city Suva along with other areas in the island nation. The 2012 cyclone Evan that left the South Pacific country reeling was a category four storm.
"We must stick together as a people and look after each other," Fiji Prime Minister Frank Bainimarama said in a tweet.
Winston hit islands Viti Levu and Vanua Levu right after 6 p.m. UTC(+12) and was 140 km away from the capital, according to Radio New Zealand International (RNZI).
"The Government machinery shall now roll into place to ensure the safety of members of the public, businesses, our economy and national assets," Permanent secretary for Natural Disaster, Meleti Bainimarama, was quoted as saying by Fiji Times after a state of natural disaster was declared.
Curfew was imposed from 6 p.m. UTC(+12) in the country and only essential services like the police, ambulance were permitted on roads.
Cyclone Winston has already hit neighbouring island country Tonga once, where it did not leave any casualties. New Zealand pledged aid to the country where relief operations are ongoing. Northern Tonga is expected to be hit again along with Fiji, according to RNZI.
Hospitals in Fiji are open and medical officials are on high alert, assistant Health Minister Veena Bhatnagar told Fiji Times, Saturday.
Residents have been asked to take shelter in government shelters if they think their homes would not withstand the storm. They have also been asked to stock up on batteries as communication and power lines have been affected by the storm in various islands. Flights have also been cancelled until further notice.