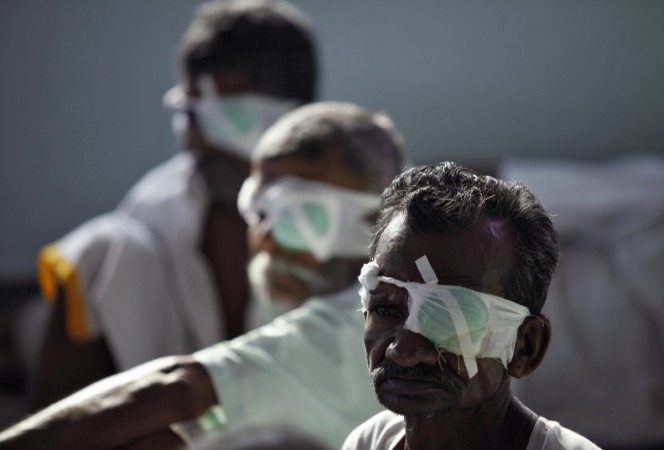 Punjab Chief Minister Prakash Singh Badal has ordered a probe into the incident, where at least 15 elderly people lost their eyesight after undergoing cataract surgery last month at a camp allegedly organised in "severely unhygienic conditions" by an NGO in Gurdaspur district.
An FIR has been lodged against SKM Hospital, Mathura, Vidya Eye Care, Jalandhar and doctor Vivek Arora.
Of the 60 patients who were operated upon for cataract on 29 November, 15 complained of lost vision soon after their bandages were removed. All the 15 patients are residents of Gagomahal village in Ajnala, near Amritsar.
Amritsar Deputy Commissioner Ravi Bhagat had referred all the patients to the Government Medical College and Hospital for check-up after they complained of lost vision.
After conducting tests, the eye specialists at the hospital said the patients lost their eyesight due to severe "post-operation infection."
"All 15 patients have gone completely blind and there is no chance of their eyesight getting restored," Amritsar civil surgeon Rajiv Bhalla told Hindustan Times on Thursday night.
Bhagat said that the NGO Guru Nanak Foundation, which organised the health camp in Gurdaspur's Ghuman village, violated the health safety norms. The officials fear that more patients might be affected in the coming days.
"The organisers violated norms. They didn't mention what medicines they would use and which doctors would perform the surgeries. We are investigating who the doctors were and whether faulty medicines were used," NDTV quoted Bhagat as saying.
At least 60 people registered for cataract surgery at the camp organised at a charitable hospital in the Gurdaspur district on 4 November. After registering, they were all given eye drops and were operated upon on 29 November.
Bhagat has ordered an inquiry into the incident and filed an FIR with the Gurdaspur district administration, which will act according to the reports provided by Amritsar civil surgeon.
This is the second botch-up at health camps organised this year. Earlier in November, 13 women died after undergoing sterilisation surgery at a family planning camp, organised is Chhattisgarh's Bilaspur district by the local administrators.