Spanish government on Wednesday said that it would examine "all options" in a crisis cabinet meeting soon after Catalonia's leaders put a mandate to declare independence on hold. The decision has plunged the country into uncertainty after a tumultuous referendum last week.
More than 2.2 million people across Catalonia had cast their ballots for a 'Yes/No' referendum to secede from Spain on October 2, with a majority of voters choosing independence despite violent attempts by police to thwart the voting process.
Spain's Prime Minister Mariano Rajoy has vowed to do everything in his power to prevent Catalonia's split from Spain, an issue which has pushed the country into one of its deepest political crisis, according to PTI reports.
Rajoy however has refused to rule out imposing direct rule over the semi-autonomous region. If a direct rule is imposed on Catalonia, it could lead to unrest in the country.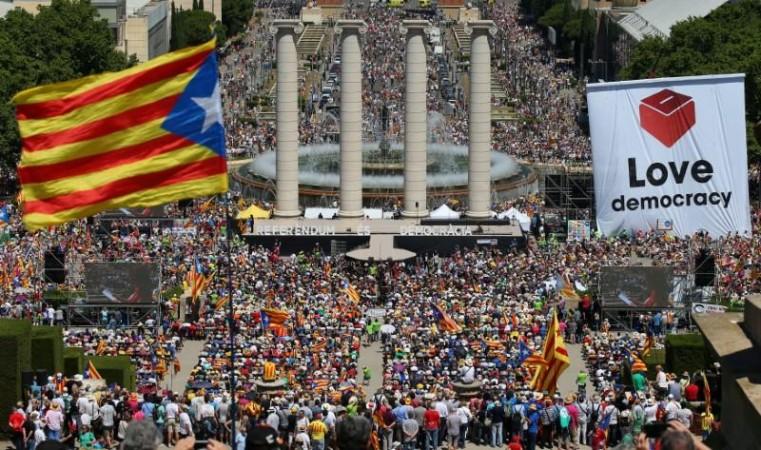 The Prime Minister called an emergency meeting on Wednesday after Catalonia's President Carles Puigdemont announced on Tuesday that he had accepted the mandate for "Catalonia to become an independent state."
However, Puigdemont, in a parliamentary speech, called for Catalonia's independence to be suspended to allow for negotiations with the central government in Madrid.
A government source told Reuters that "all options" were on table as the crisis talks were underway.
Catalans, who want to split from Spain, have long wanted more than the limited autonomy they now enjoy. They argue that their contribution is far more than what they receive from the central government, which controls key areas including taxes and infrastructure.

Catalonia regional government last week had declared a landslide victory for the "yes" side in the referendum voting which has been deemed "illegal" by Madrid.
Thousands of people gathered outside the parliament building in Barcelona on Tuesday evening, showing support for Catalonia by waving Catalan flags and banners and screaming"democracy."