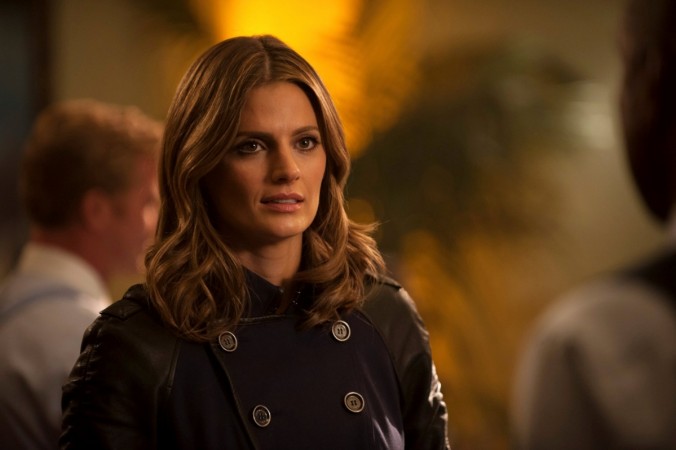 With just a few days left for the finale of "Castle" Season 7, speculations about Stana Katic's exit from the show is gaining momentum. The latest hints on an end to Kate Beckett's (Stana Katic) journey with Richard Castle (Nathan Fillion) in "Hollander's Woods".
Recently, the celeb thanked her Twitter followers and shared a few details about her upcoming projects. "Thanks 4 all the well wishes! Filming a movie off-grid. Working w/fantastic people in a secret location. Looking 4ward 2 sharing when I can," she wrote.
This tweet has triggered several speculations that episode 23 of Season 7 could be the last on-screen appearance of the 37-year-old on ABC crime procedural series. But it is not the first time that the celeb is making her fans panic over her future in the show.
While interacting with her fans on Twitter in March, the actress hinted at the possibility of the series finale. When one of her fans asked about the end of the show, she replied, "Proud of all we've accomplished. Grateful 4 being part of the ride."
Meanwhile, there was also a buzz that Beckett will be killed towards the end of series finale as the trailer shows a lady about to be hit by a truck. However, creator Andrew Marlowe has already made it clear that he is not planning a death and the show would come back "with all pieces intact" in Season 8, according to Entertainment Weekly.
Earlier, Katic had described her journey with the television drama as incredible. She had said, "Being part of the show has changed my life. I am forever grateful to the creators that gave me the chance to luxuriate in a role like Kate Beckett & to the fans who have joined us on this journey & sustained us."
"As I move forward in my career, I know that this character & this story will always be an incredibly sweet memory. My life will never be the same afterwards."
It can be assumed that even if the celeb may not be a series regular she could make guest appearances. So viewers can hope to watch their on-screen power couple in Season 8.