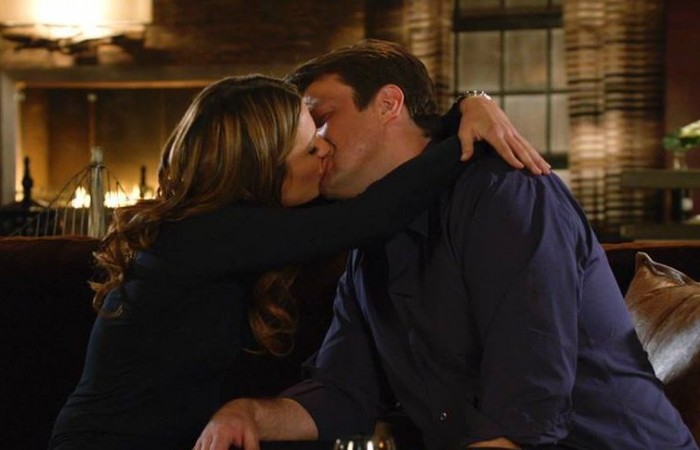 "Castle" season 8 has been on a long midseason break since it aired episode 8, titled "Mr & Mrs Castle", on 23 November. While many fans thought that the midseason premiere will be aired on 1 February, ABC has now officially confirmed that the show will return with episode 9, titled "Tone Death" only on 8 February.
So, there will be no new episode of "Castle" season 8 even this Monday (1 February) as announced earlier.
The midseason finale dropped the curtains by showing the much-awaited Rick-Kate reunion. Fans saw the couple getting back together after they solved a case on the cruise. But the showrunners have confirmed that though the duo has secretly rekindled their relationship, they will pretend being separated in front of their peers.
And now, in a new promo released by ABC for episode 9, titled "Tone Death" we can see Kate flirting with Rick as she is heard saying, "Is it wrong that I wanna kiss you right now?" and which he replies, "So wrong it's right."
Not just this, the promo also teases the couple sharing intimate moments in private. A scene in the teaser shows Rick and Kate in bed, having sex. Rick tells, "You successfully completed your agenda." and Kate replies, "Three times."
In an interview with TV Line, co-showrunner Alexi Hawley had said that couple will remain separated in public, but will do things as a married couple in private.
"What we love is that now that we're twisting it so that they're in it together but the public face of them is separate, that allows the audience to be in on the joke with them — in the sense that they can fight in public, but the audience knows it's just an act," Hawley said.
"There's a lot of 'lost time to make up for,' so to speak, in the bedroom. So there is some friskiness," Design&Trend quoted him as saying.
Meanwhile, the couple will also be seen investigating the death of a high school cappella singer in the midseason premiere episode.
"Castle" season 8 is on a mid-season break and will return with on 8 February, 2016. For more information on the upcoming episode and live streaming details, don't forget to check back here.