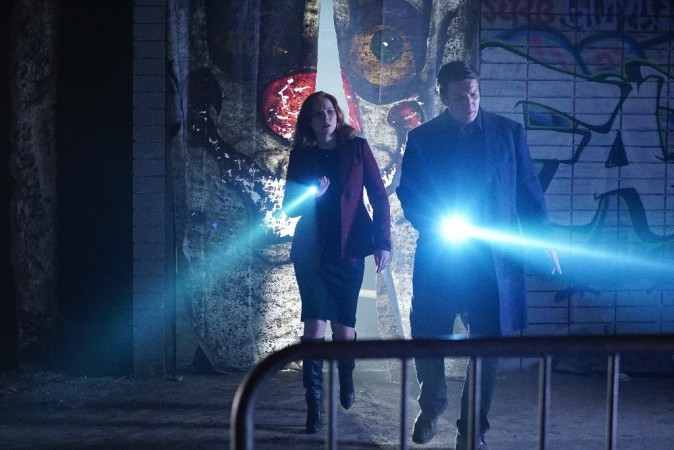 "Castle" Season 8 could well be the last season. If reports are to be believed then the show's future is in the limbo as network has still not renewed for Season 9, even as we get closer to Season 8 finale. But having said that, the previous episode 17 of the current season kind of witnessed its ratings go up slightly. Now, fans will have to wait and watch what happens to their favourite procedural drama.
CLICK HERE to watch "Castle" Season 8 episode 18 live online. And, CLICK HERE to watch "Backstabber" later online.
In episode 17, we saw Rick and Kate teamed up to solve the murder of a member of a Turkish smuggling ring. Their investigation led them to look for an item believed to be Aladdin's lamp. Meanwhile, Martha asked for Castle's help to get Oprah Winfrey to endorse her book. And at the end of the episode, we saw Ryan's wife Jenny gave birth to a boy baby, whom they named Nicholas Javier.
In episode 18, we will learn more about Hayley's past as a MI6 spy. Viewers have already learnt that Hayley knew Rick before his memory loss and that she also has some knowledge of LokSat. The synopsis of "Backstabber" teases that Hayley reaches out to Rick and Kate for help after she gets framed for a murder and cyber-terror attack.
The promo of the upcoming episode shows MI6 Agent Stephen Mallory coming to Rick's office looking for former MI6 operative Hayley Shipton. He is seen telling Rick that he needs to give up Hayley's location for her good. When Rick replies saying that he believes that she is framed, Mallory tells him: "Miss Shipton is intimately involved in the planning and the execution of today's events. We have proof. She is MI6's most ruthless and cold-hearted spy, who let her partner die to save her own skin."
Well, could Hayley be the backstabber? Could she be lying to Rick? We will have to wait and watch.
Plot synopsis for "Backstabber" (via TV Guide) reads: "Hayley helps an old pal, but this favour gets her in trouble, linking her to a murder and a cyber-terror attack. She then needs help herself, so Castle and Beckett attempt to clear her name."
"Castle" Season 8 episode 18 will be aired Monday, April 18, at 10 p.m. on ABC.