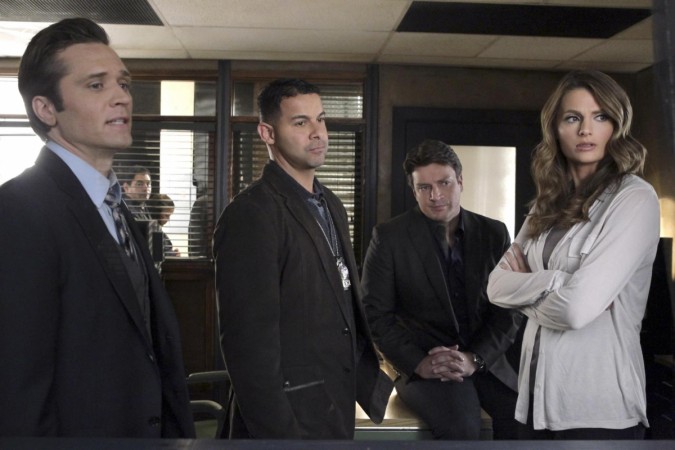 "Castle" Season 8 is bringing in some interesting angles and cases to keep its fans intrigued. After revealing a shocking fact about Esposito's past in episode 16, fans will be transported to the world of Aladdin in episode 17.
CLICK HERE to watch "Castle" Season 8 episode 17 live online. And, CLICK HERE to watch "Death Wish" later online.
In episode 16, we saw how Esposito's past came back haunting when an armoured car driver is found killed and the money is stolen. The clues were very similar to a case that Espo was handling nine years ago, where Sonya was one of the accused. The episode showed that the team was shocked to know that she was once Espo's fiancé. This time, Sonya helped Espo track down her former member, but Ryan learnt that she might still be linked to the current case as well.
At the end of "Heartbreaker" we saw Rick and Kate agreeing to solve the LokSat case together, after Kate moved back into Castle's place.
In episode 17, we will see Rick and Kate go hunting for a stolen antique lamp that resembles Aladdin's lamp, which will actually lead them to the murderer that they have been looking for. According to the synopsis, Rick and Kate will go on looking for the lamp after a man deeply involved in smuggling Turkish artifacts has been found murdered.
The promo of "Death Wish" also shows how Rick will go on full Aladdin mode and his imaginations runs wild into the world of genies and flying carpets. While Kate just nods her head to her husband's childish behaviour, the clip shows Esposito and Ryan trying to impress her by saying that they are the first to discover the murder of the lamp owner.
Ryan gives Rick and Kate information about a smuggler selling lamps illegally. And finally, at the end of the video, Rick is shown spotting a symbol on the lamp while looking at the photos on Ryan's laptop and asks him to zoom in.
Plot synopsis for "Death Wish" (via TV Guide) reads: "Castle and Beckett embark on a search for Aladdin's lamp after a man linked to smuggling Turkish antiques is killed."
"Castle" Season 8 episode 17 will be aired Monday, April 11, at 10 p.m. on ABC.