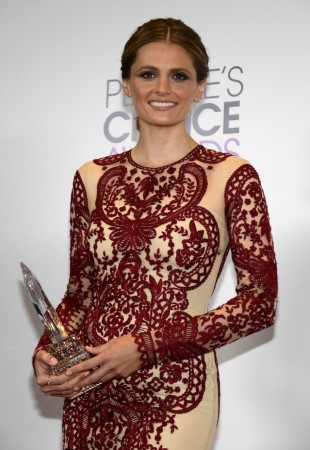 "Castle" fans have a reason to celebrate. Putting to rest rumours that co-stars Stana Katic and Nathan Fillion were dating, the former has married long-time boyfriend Kris Brkljac.
E! News confirmed earlier on Tuesday that the couple exchanged vows last weekend at a private family monastery on the Dalmatian Coast in Croatia. The couple made it official by sharing a black- and-white photo of their hands over-lapping, showing off their newly-acquired rings.
The 37-year-old has had quite a busy year so far; apart from getting married, the actor has been busy filming the latest season of "Castle" and preparing for a yet-to-be-named character in the movie called "The Tourist", which is set to hit theatres later this year.
Brkljac works as a business efficiency consultant and the couple have been very secretive about their relationship. While fans kept on adding fuel to the rumours that Katic and Fillion were having an on-and-off relationship, the "Castle" star has been going strong with her boyfriend.
With season 7 of the detective series wrapping up some time ago, Katic had ample time to sneak away and get married.
Meanwhile, there are rumours that the ABC series may not be continued for season 8. The Canadian-born actress also supported the news by saying that if the character runs out of storyline, it is better to do away with it when they are still at their peak. "For me it's about art over finance, and as long as we're creating something that is compelling and that has somewhere to go, then we're good to go," she had said earlier.