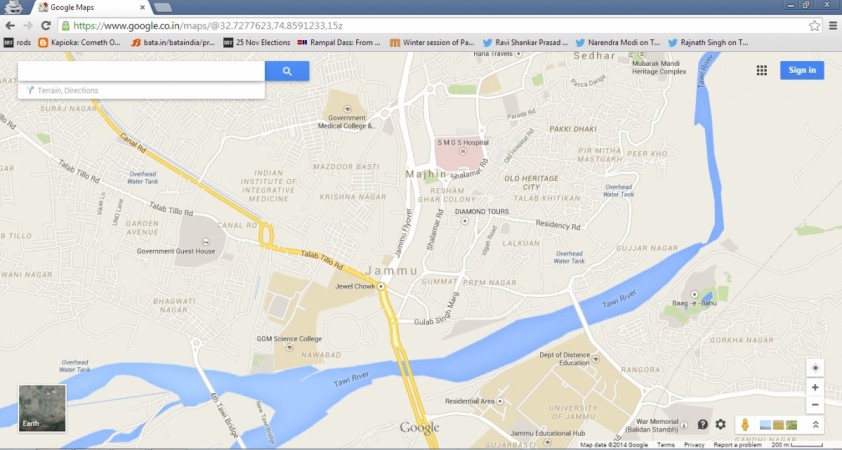 India's mapping and survey organisation Survey of India (SOI) has reportedly filed a complaint against search engine Google Inc for allegedly showing India's boundaries incorrectly in online maps.
The complaint was filed at Dalanwala police station in Dehradun, Uttarakhand on Saturday night.
"The faulty coordinates were noticed in Jammu & Kashmir and the northern side of India which are not as per our maps. The decision to file a written complaint was taken after consulting the highest level of authority," The Times of India quoted a senior SOI official who preferred anonymity.
The Dalanwala police station is "trying to establish the authenticity of the complaint" and hand over the case to cyber cell for further investigation.
"The cyber cell team will look into the allegations following which the next course of action will be decided," Dalanwala station officer Anil Joshi told TOI.
Minister of State for Information and Broadcasting Rajyavardhan Rathore on Friday informed the Lok Sabha that the SOI found discrepancies in India maps displayed by Google.
Rathore referred to a letter SOI sent to the Ministry of Communication and Information Technology, Ministry of Home Affairs and Ministry of Defence received on 16 May 2013, seeking preventive or legal action.
The nodal officer, appointed by SOI, had conducted a check after receiving complaints against Google for displaying misleading maps.
"On receipt of complaints regarding display of incorrect map of India by Google, Survey of India found that Google is displaying incorrect map of India on its different websites namely google.co.in (India), ditu.google.co.ch (China), google.pk (Pakistan) and google.org(General)," PTI quoted Rathore as saying.
If the allegations are proved, Google might face charges under Section 69-A of the Information Technology Act, 2000.