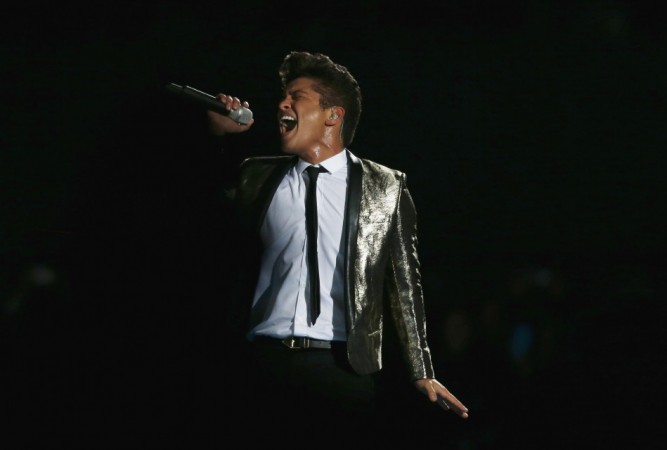 The Carpool Karaoke episodes this year have seen many popular celebrities hop into James Corden's car to sing their way to the CBS office. Singers Adele, Britney Spears, Gwen Stefani, Selena Gomez, Justin Bieber and Sia have not only guided Corden to his destination, but also entertained viewers with impromptu jam sessions with the Late Late Show host.
Earlier this year, Corden had shared his wish list constituting of celebrities he wished would star in the segment. The list included names like Beyoncé, Sam Smith and Bruno Mars. Striking one name off the list this week, viewers will see Bruno Mars strike a chord with Corden as they drive through the city.
In a photo posted by the Grenade singer on his Instagram account, the singer is seen sporting a cap with the roman numbers 24 printed on it. Clearly, Mars will be talking about his new album 24K Magic which released this month. The album has been launched after a period of four years. The last album Mars launched was Unorthodox Jukebox, back in 2012. Through this break, Mars collaborated with artists and churned out hits like Uptown Funk and The Lazy Song.
"It's the most fun I've had in the car. I can't wait to see it. I've never had that much fun doing work ever in my life," Corden was quoted as saying by ET Online. Getting Mars on the show was a great personal accomplishment for Corden. At the Emmys in September, Corden told ET Online that Mars was his "dream partner" for Carpool. "He didn't let me down in any way," Corden said. "He's just got the songs and the funk and it's Bruno!"
Having said that, it looks like the episode is all set to get viewers dancing in their living rooms. The upcoming guests list for the carpool segment this year includes Maria Carry and Madonna.