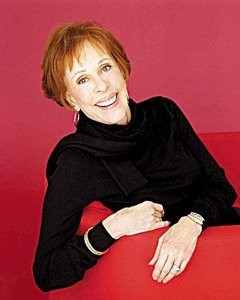 Carol Burnett was honoured with the Mark Twain Prize, the most prestigious humor prize for her contribution to American humour.
Carol Burnett is best known for her debut, namesake comedy show "The Carol Burnett Show," that first aired in the 1960s. According to reports, the singer and actress was told that comedy was a "man's world." Burnett went on to prove everyone wrong when her show ran for 11 straight years, bringing in over 30 million viewers each week.
Burnett was awarded the 16th annual Mark Twain Prize for American Humor on Sunday. Tina Fey Julie Andrews and Amy Poehler performed during the show at the Kennedy Center.
"This is very encouraging, I mean it was a long time in coming, but I understand because there are so many people funnier than I am, especially here in Washington," Burnett said during her acceptance speech, the AP reported. "With any luck, they'll soon get voted out, and I'll still have the Mark Twain prize."
After receiving the award, Burnett was invited to the White House to meet President Barack Obama. The White House released a photo of Burnett and Obama in the Oval Office, with Obama sitting on his desk and Burnett resting her hand on her trophy, reports ABC News.
Burnett's initial plan was to become a journalist and she even went to UCLA to pursue her dream. However, she soon discovered the art and joy of making other people laugh. So, instead she took and acting class and found herself on stage pretty soon. She's been there ever since.
At the age of 21, Burnett got her first big break when she was asked to perform her rendition of "I Made a Fool of Myself over John Foster Dulles" at "The Ed Sullivan Show." Her appearance on the show landed her a role on Broadway's "Once Upon A Mattress," and was invited on "The Garry Moore Show."
Soon, she had a 10 year contract with CBS, which stated that she would appear in various sitcoms and would perform in one TV special a year. She was also promised her own show and airtime, but that didn't happen until five years into the contract. When she spoke to CBS officials, someone told her that "variety is a man's game." Burnett wouldn't take no for an answer and got her own show in 1967, which ran till 1978. The show featured the likes of Lucille Ball, Jimmy Stewart, Ronald Reagan and Betty White.
Other celebrities to have received the Mark Twain Prize include Fey, Bill Cosby, Steve Martin, Lily Tomlin and Ellen DeGeneres.