Writer Sudha Menon's voice carries a chime that comes effortlessly when you create something you are proud of. And you will continue to be, perhaps even decades down the line. Menon, whose latest book, Devi, Diva or She-Devil — The Smart Career Woman's Survival Guide, has just hit store shelves, says her only expectation from the work is that it touches somebody's life.
Also read: Sex ratio: Working women prefer fewer children, but at the cost of the girl child, reveals Census data
The book is a narration of stories of successful working women from various fields in India, who recount the struggles they faced in the professional as well as the personal spheres, the choices they had to make, and the lessons they learnt along the way. For Menon, whose first book, Leading Ladies: Women Who Inspire India, came out in 2009, the latest work is a natural progression demanded by a change in the times.
"In those days, the language of successful women was very different from what we hear now," she says. "While working women were earlier not open to discussing the adjustments they had to make to strike a work-life balance, they are now more comfortable in accepting the fact that 'we cannot have it all'."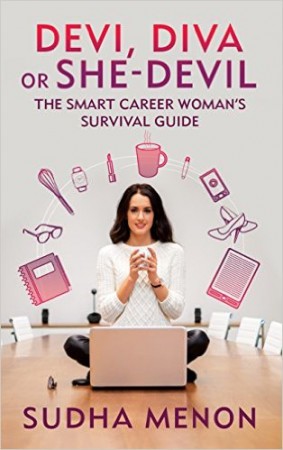 Devi, Diva or She-Devil, published by Penguin Random House, is a result of the interviews Menon conducted with over 20 women from different professions, including food writer Karen Anand; theatre actress Lillete Dubey; Pankajam Sridevi, MD, ANZ Bengaluru; and boxer Mary Kom. There are women who talk about how motherhood changed their work habits, and those who don't define themselves through the role of a parent; those who got the jobs on a platter, and others who struggled their way up.
Though she was not able to include all of them in the book, Menon does touch upon a variety of issues through the chapters. So we discover the rather unusual concerns that sports journalist Sharda Ugra faced when she entered the profession, including what she refers to as her favourite 'Toilet Tales' — the lack of a separate women's washroom at the Wankhede Stadium in Mumbai, and also the Wimbledon.
We also discover how Bollywood choreographer-filmmaker Farah Khan felt when close friend and superstar Shah Rukh Khan and her husband, Shirish Kunder, had a public spat in 2012. Four years later, the incident still saddens Farah, says Menon in the book. "We usually want an ideal situation where everybody we love also loves each other but the fact is that it does not work that way and we simply have to learn to accept that and keep our separate equations going," Farah is quoted as saying.
Menon, 50, who worked as a journalist for over 20 years before turning to authoring books, also recalls her struggles as a young mother juggling her domestic life with reporting assignments. Her meetings with women who worked at positions of power then gave her nuggets of insight into how they remained unflappable amid all the chaos. And she wants to build the same support system for others through the book.
"When I started writing the book, I did not intend it to be a survival guide for working women," says the Pune-based writer. But it did develop into one, even though, Menon adds, it works like a drawing room conversation between a group of friends. A drawing room occupied by Biocon chief Kiran Mazumdar Shaw and scriptwriter Honey Irani, among others, is sure to throw up some incredible counsel. For the millions of career women in India, Menon hopes it does.