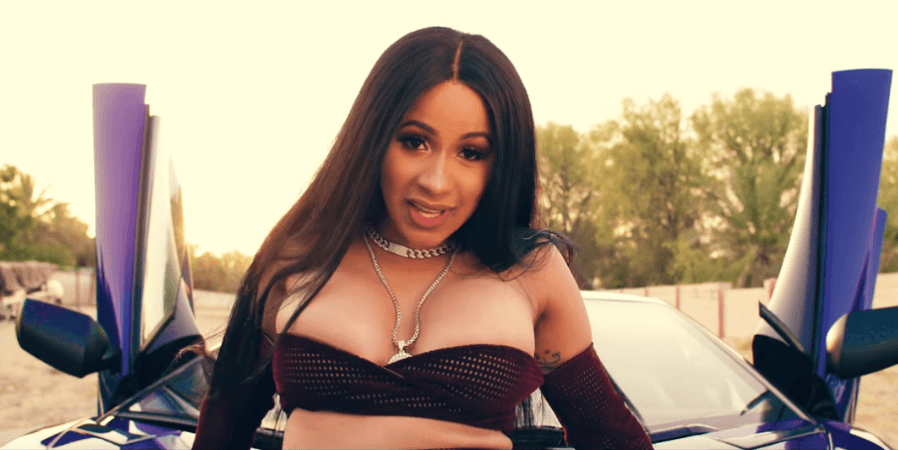 Cardi B posted a video on Instagram ranting about how she had to "tape her tities up" because it does not look perky enough.
Pregnancy does alter a woman's body in different ways and it takes a while to get back into shape. Cardi B, a new mother is facing the same difficulty. The rapper welcomes her baby daughter, Kulture, 2 months ago and she is still in disbelief about how her body has changed since.
Cardi B took to Instagram and uploaded a video captioned "Kulture did me bad "to show her fans how she used tape to lift her breasts so that they look perky. She said, ""This s--t is crazy," she said in the video. "I have never done this s--t in my life, but f--k it. I have to f--kin' tape my t-tties up because, son, giving birth and s--t. Like, my t-tties were already like a little low-low because I got my t-ts done when I was 19, and I never wore a bra and s--t....But when I was pregnant my s--t was looking nice, though."
Not happy about her situation, she said she might have to get plastic surgery by the end of the ear so that they are back in shape. "I don't give a f--k, if y'all motherf--kers see me gone in November, December," she said. "I'm getting my t-ts done. I don't give a f--k. Matter of fact, I'm not even going to call it a surgery. I'm just going to say a 't-tty renovation' because I got to renovate these s--ts."
She said it's because of her daughter who "did me filthy" for which she needs they uplift. The Bodak Yellow singer concluded the video saying her "s--t is not looking beauts."
Cardi B has not yet shown the world how baby Kulture look like, however, she has given a little peeks of her daughter.