With the rise in coronavirus cases in the country, Gujarat's Surat turns to cardboard beds to battle against the pandemic. A video from Surat surfaced the social media where a team from the Atal Samvedana Covid-19 care hospital is seen assembling 182 beds made of cardboard to boost the medical infrastructure of the state.
Harsh Sanghavi, BJP MLA of Majura(Surat), National Vice President of BJP Yuva Morcha (BJYM), who set up the facility at SMC's Community hall in Althan area, shared a video of the team assembling the bed. These lightweight, reusable and eco-friendly beds are coated with waterproof material are a silver lining amid the pandemic.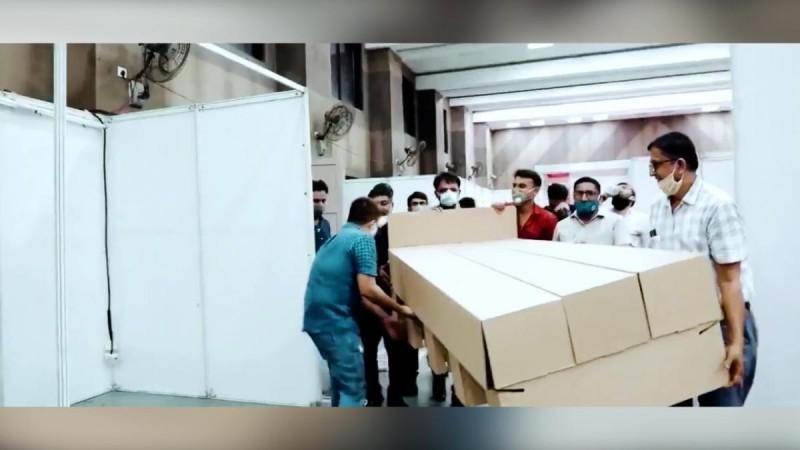 Carboard beds, a boon amid the pandemic
The effort was made in order to provide a facility for coronavirus patient's to recover at the earliest. The easy to assemble low-cost beds are made with high strength corrugated board which is easy to transport and put together in barely five minutes.
Fact 101: According to researches, this concept of corrugated cardboard bed is more relevant during Covid-19 mainly for its disposability factor. Cardboard surfaces can stay infected only for 24 hours whereas they stay a little longer on plastic and metal surfaces, three and seven days, respectively.
This innovative concept has been recognised by the Prime Minister's office in India for one of the top 10 innovations during the COVID-19 crisis.
According to reports, 50,000 beds are in use in India today across 30 cities and over 100 facilities. The manufacturer has received enquiries for them across the world – from Europe, Australia, Africa, and the Middle East.
Gujarat witnessed a new high of 725 coronavirus cases which takes its tally to 36,123, while the death toll is almost close to the 2,000-mark. In the last nine days, Gujarat recorded over 600 Covid-19 cases daily.