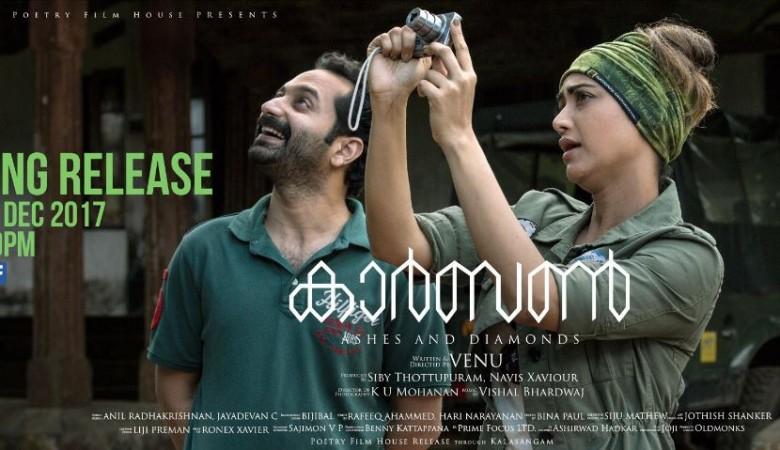 The first video song of Fahadh Faasil's upcoming flick Carbon is here. The song has a peppy tune with lyrics hint at the life and ways of the lead character played by Fadadh Faasil.
The 3-minute and 33-second video song, which starts with "Thanna Thane" also gives a sneak peek into the other characters in the movie and how they cross the life of Fahadh Faasil's character.
The song is composed by ace Bollywood filmmaker and composer Vishal Bhardwaj. Carbon marks the tunesmith's return to Mollywood after a long gap of 19 years.
The movie, which is directed by veteran cinematographer Venu, is touted to feature some soul-stirring melodies of Bollywood's most wanted tunesmith.
Vishal Bhardwaj first visit to Mollywood was through Venu's directorial debut, Daya in 1999. The movie is remembered for Manju Warrier's male protagonist and Vishal Bhardwaj's melodious rendering of emotions.
Also Read: Vishal Bhardwaj revisits Mollywood with secret recipe of soul-stirring tunes for Fahadh Faasil's Carbon
The video song features Fahadh as an intriguing vagabond. The lyrics also hint at his vain ambitions and failed attempts to achieve what he wants in life. At a certain point, there is a bank robbery scene which eventually turns out to be his daydream.
Fahadh's ultra-realistic look and dialogues are the highlights of the song. Comments lauding the actor's performance are pouring in on the comment section soon after the song surfaced online.
Carbon, which is Venu's comeback movie after the critically acclaimed Mammootty flick of 2014, Munnariyippu, is one of the most expected flicks of 2018.
Venu, who is considered as one of the best cinematographers in the country with three National Award for Best Cinematography to his credit, has roped in Bollywood's ace cinematographer KU Mohanan to crank the camera.
The recently released trailer of Carbon was well received by the viewers and the movie is lined up for an early January release.
Also Read: The official trailer of Fahadh Faasil's Carbon is here, and there is a bumpy jungle adventure ahead
Carbon also has Mamta Mohandas as the female lead and Nedumudi Venu, Dileesh Pothan, Soubin Shahir, Ashokan, Vijayaraghavan, Lena, Master Chetan Lal, and Sharafudheen playing other key roles.
The movie is produced by Siby Thottupuram and Navis Xaviour under the banner Poetry Film House.